JULY 2014 • Vol. 3, Issue 3
---
Education Committee Reports Quality Work presented in Milan
Sheryl Foster, MHSc. (MRI)
2014 Chair, Education Committee

"Every oral and poster presenter should take pride in the fact that, by sharing their work with their colleagues, they become part of the educational process that is so important to us all."
The success of our 23rd Annual Meeting in Milan was due, in no small part, to the wonderful array of abstract submissions the Education Committee received from a wide range of geographical locations. This demonstrates that the SMRT is actively delivering in its mission of supporting MRI technologists to achieve professional excellence by providing high quality education to its members around the globe. This mission is the driver of your Education Committee, and in fact, your entire Policy Board, and we would all like to take this opportunity to thank everyone who contributed by submitting and presenting their work. Every oral and poster presenter should take pride in the fact that, by sharing their work with their colleagues, they become part of the educational process that is so important to us all.

This year, thanks to the generosity of the ISMRM Research and Education Fund, we were able to significantly increase the size of the individual prizes so that they were more reflective of the professional efforts of the submitters.

Congratulations go to all our prize winners, who represented a diversity of countries such as Japan, USA, Denmark, Australia, Canada and the UK. I would like to thank all of you for your excellent presentations, both oral and poster, and hope to see you again in Toronto.
2014 President's Award Paper is by Claudio Arena
Claudio Arena, R.T. (MR)(CT) - President's Award:
Evaluation of MR Elastography Reproducibility: Effect of Motion Encoding Gradient Direction, Slice Position, and Meal Ingestion

MR Technologists and Radiographers Efforts Receive Awards in Milan
PROFFERED PAPERS
Claudio Arena, R.T. (MR)(CT)
President's Award: Evaluation of MR Elastography Reproducibility: Effect of Motion Encoding Gradient Direction, Slice Position, and Meal Ingestion
PROFFERED PAPERS - RESEARCH FOCUS
Tomonori Isobe, R.T., Ph.D.
1st Place Research Focus Award: Non-Invasive Assessment of Ectopic Fat in Non-Alcoholic Fatty Liver Disease Using 1H-MRS
Emma Hornsey, B.Sc.
2nd Place Research Focus Award: Non Contrast Breath Hold 3D T2 Prepared Balanced Steady State Free Precession Thoracic Aorta MRA - ECG versus Pulse Gating
Glenn Cahoon, B.App.Sc., Dip.Ed., M.App.Sc.
3rd Place Research Focus Award: Predicting Non-compliance with MRI Procedures Among Younger Pediatric Patients
PROFFERED PAPERS - CLINICAL FOCUS
Ben Statton, B.App.Sc.
1st Place Clinical Focus Award: The Utility of the DWI/FLAIR Mismatch for Identifying Wake-up Stroke Patients Who May Benefit from Thrombolysis
Mark Smith, M.S. R.T. (R)(MR)
2nd Place Clinical Focus Award: Estimation of Hepatic Iron Content (HIC) at 3.0T
Michael Geneser, R.T.
3rd Place Clinical Focus Award: Comparison of Single-Shot and Readout-Segmented, Multi-Shot (RESOLVE) Diffusion–Tensor Imaging in the Cervical Spinal Cord

POSTERS - RESEARCH FOCUS
Karla Epperson, R.T.
1st Place Research Focus Poster Award: Imaging the Thalamus Using a Novel White Matter Nulled Pulse Sequence: Does 7T Improve Image Quality Over 3T?
Shotaro Komi, R.T.
2nd Place Research Focus Poster Award: Preliminary Investigation of the Optimal Slice Angle for Measuring Amygdala Activity in fMRI the Neck Level
Maila Hughes, B.App.Sc.(Hons)
3rd Place Research Focus Poster Award: Whole Body MR Imaging in Neurofibromatosis
POSTERS - CLINICAL FOCUS
Anne Dorte Blankholm, M.Sc. (R)
1st Place Clinical Focus Poster Award: Non-Contrast Enhanced MRI for Preoperative Planning of Kidney Donation to Replace Contrast Enhanced CT in Living Kidney Donors
Margaret Forbes, R.T. (R)(MR)
2nd Place Clinical Focus Poster Award: Assessing the Post-Operative Ascending Aorta: bSSFP versus Contrast Enhanced MRA
Nicole Welsh, B.Med.Rad.Sc., MRT
3rd Place Clinical Focus Poster Award: Differentiating Recurrent Brain Tumour from Radiation Necrosis Using Magnetic Resonance Imaging
Poster Tour and Reception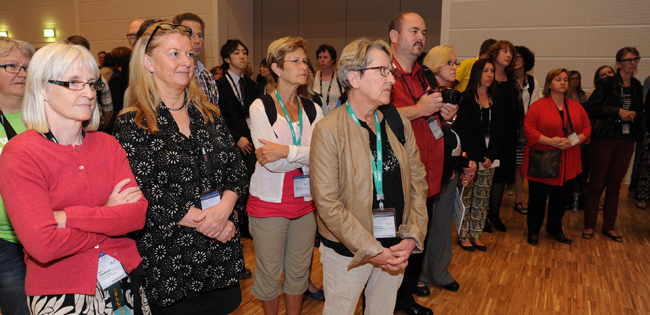 Attendees listen to the poster presentations
Left to right: Shotaro Komi, Maila Hughes, Karla Epperson, Sheryl Foster, Anne Dorte Blankholm, Margaret Forbes, and Nicole Welsh.
Left to right: Barry Southers, Vera Kimbrell, Charles Stanley, and Bill Faulkner
Left to right: Steve Peay, Jennifer Olson, Julie Peay and Anne Dorte Blankholm
Left to right: Mark Lowe, Julia Lowe and Cindy Comeau
Jennifer Olson, center front, with her many friends and colleagues present at the retirement celebration
Left to right: Melonee Elrod, Carol Lee and Cindy Hipps
Surprise Retirement Party held in Milan to Honor Jennifer Olson
| | |
| --- | --- |
| | |
| Jennifer Olson shows her surprise while Roberta and ISMRM President Peter Jezzard look on | Jennifer Olson Listens intently as ISMRM President Peter Jezzard presents a gift of recognition to her |
| | |
| | |
| Roberta Kravitz and Jennifer reminisce over the many years they have worked together | The cake in honor of Jennifer appears as an ISMRM newsletter headline |
| | |
| | |
| Longtime Editor Leon Partain shares a moment with Jennifer Olson | SMRT Past President and longtime Home Studies Editor Anne Marie Sawyer shares reflections with Jennifer Olson |
| | |
| | |
| Maureen Ainslie presents a gift to Jennifer Olson on behalf of the SMRT Past Presidents | Jennifer appears delighted to see so many friends and colleagues sharing her celebration |
| | |
| | |
| SMRT Past President and longtime Signals Newsletter Editor Julie Strandt-Peay described Jennifer Olson as a rock who offers support and encouragement | SMRT Past President Vera Kimbrell describes Jennifer Olson as a mother who listens to professional and personal trials with a kindness and caring |
| | |
| | |
| Incoming SMRT President Maureen Hood recalls her first oral presentation many years ago and how Jennifer Olson provided reassurance | As is the custom the guest of honor, Jennifer Olson makes the first cut in the cake |
A Note from Jennifer Olson

Editor's note: Subsequent to the meeting in Milan Jennifer began her retirement. She shares her thoughts with us now.
Dear SMRT Friends and Colleagues,

I have been enjoying my first week of retirement after 27 years with the ISMRM/SMRT, every day of my retirement has been incredibly wonderful!! Waking up in the morning and being free to do whatever my heart desires!! Long walks at the beach or in the redwoods... lovely!!

More importantly, I want to give a heartfelt "thank you" to all of the wonderful ISMRM staff, our society leaders and our society membership. It is so hard to believe how quickly 27 years has flown by, even more amazing to me is how much MRI has evolved and grown scientifically and clinically during my career at ISMRM/SMRT. What has always continued to amaze me is how very lucky I have been to have the honor to work with all of the many dedicated and compassionate volunteers who are at the heart of our society. These incredible volunteers, our society leaders, and our members who have very important careers in the fields of science, healthcare and education and whose main goals are to benefit patient healthcare around the world. Everyday at ISMRM/SMRT was truly a gift!

Our Annual Meeting in Milan, Italy was really wonderful, and for me personally it was also filled with some bittersweet moments; a roller coaster of emotions, one moment it was filled with incredible happiness in seeing friends and colleagues who I have known for many years, then a sadness in knowing I will no longer be involved with the continued growth of our society, and having to say a fond farewell to these dear wonderful friends who have meant so much to me over these many years. I will truly miss the energy and excitement of our educational activities and the changes that the society brings to the world. All of these compassionate, wonderful people I will never, ever forget. One of my very favorite writers, Maya Angelou has said it best. "I've learned that people will forget what you said, people will forget what you did, but people will never forget how you made them feel." All my dear friends and colleagues I will never forget how you have made me feel – loved...

Onwards!!