Regional Report
SMRT New England Chapter Regional Educational Seminar
October 2, 2010

Meeting Organizers:
Maryann Blaine, MAT, B.S.,R.T.,(R)(MR), Carolyn Bonaceto, B.S.,R.T.,(R)(MR),
Janice Fairhurst, B.S.,R.T.,(R)(MR), Vera Miller, B.S.,R.T.,(R)(MR)
| | | |
| --- | --- | --- |
| | Vera Miller, B.S., R. T. (R)(MR) | |
The 2010 New England Chapter Regional was held on Saturday 2, October, 2010 in the MGM conference center at Foxwoods Resort, Connecticut. The weather was fantastic and the venue well suited for this event. The turnout was wonderful with 74 registered attendees!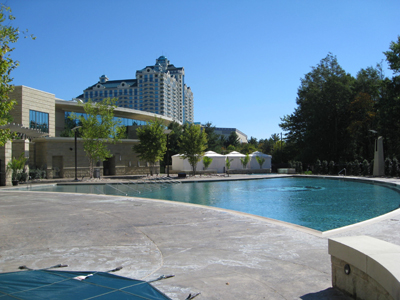 MGM conference center at Foxwoods Resort, Connecticut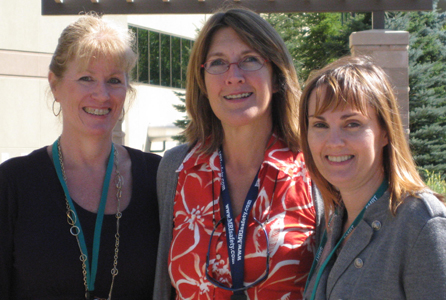 Carolyn Bonaceto, Janice Fairhurst, and Vera Miller
We would like to acknowledge our vendor support without which no conferences or educational events would be available. Bracco, Hologic, West Physics, GE, Butler Cleaning, Lantheus Pharmaceuticals, and Conformis supported this event and we truly appreciate their support!!!

After morning coffee and a light breakfast Dr. Mulkern started the day with an interesting explanation of MR artifacts. He talked about the well known artifacts of old and also more recent issues caused by updated hardware and software.

Anna Kablub followed with an explanation of MR arthrography and the process involved from the perspective of an RA. Anna has been an RA for several years now. She works for Shields Healthcare in a center where MR arthrography an integral part of the clientele. Her expertise allowed us to better understand this technique.

Next up was Dr. Moertel with an in-depth look at Pelvic MR, specifically Rectal and Prostate imaging. We learned about the issues and advantages in this up and coming field.

After a short break Dr. Ron Garrell presented Breast MR. He covered the protocols and presented case studies. He also touched on the controversy now surrounding Breast imaging and what the future might hold.
Robert V. Mulkern, Jr., Ph.D.

Anna Kadlub, ARRT, RRA,
RT, (R), B.S. (CT)

Koenraad Mortele, M.D.

Ronald Garrell, M.D.
Lunch was an opportunity for the technologist attending to network and share experiences. We all enjoyed seeing old friends and meeting new ones.

Candi Roth, CEO of Imaging Ed. Inc was the first speaker after lunch. She presented a MR registry review designed to help new technologists prepare for the boards. It also gave the registered techs an insight on how to help our co-workers as they prep for this experience.

Dr. Alexander Lin followed Candi with a wonderfully in-depth lecture on MR Spectroscopy. He gave us many examples of how Spectroscopy is used today and also what the future might hold.

Zubair Abassi from West Physics gave an update on ACR Breast accreditation. The ACR has recently started this program and we were grateful for his help in understanding the new requirements.
| | | |
| --- | --- | --- |
| | | |
| Carolyn Roth, R.T., (R)(MR)(CT)(M)(CV) FSMRT | | Zubair Abbasi, M.S., DABR |
The last speakers of the day were from Butler Cleaning and helped us understand why cleanliness is so important and how we can better protect our patients and ourselves from infectious diseases.

All in all this was a great day with good speakers, good food and really exceptional technologists from all over New England.
New England Chapter Regional Educational Seminar Attendees