The Northwest SMRT Chapter held its 2010 Regional Educational Seminar on 30 October, 2010 at Evergreen Hospital Medical Center in Kirkland, Washington, USA. This regional meeting was the first since the passing of Denise Echelard, RT (R )(MR) who organized this meeting for many years. We had over 75 attendees, including speakers and vendor representatives, and knew that Denise would be proud of that accomplishment.
The meeting started off with breakfast sponsored by Hologic, Inc. and Dr. Bart Keogh (Radia) encouraging us to "put on our radiologist hat" during his presentation, "Clinical Applications of Perfusion, Diffusion Tensor, Phase Encoded Flow Studies and Functional MRI or Advanced Neuroimaging." Dr. Manjiri Dighe (University of Washington) gave a very interesting presentation on Fetal MRI, comparing it with Ultrasound. Dr. Mahesh Thapa (Seattle Children's Hospital) presented on Pediatric Elbow MRI . His thorough review of anatomy and specific findings proved very insightful to all. The morning session ended with Patricia Barnick, BSRT (R)(CT) from Bayer Healthcare Pharmaceuticals presenting "MRI of the Liver with Eovist: Applications and Techniques for Technologists."
During the lunch break, the attendees ate a delicious box lunch and took advantage of the opportunity to catch up with old friends and network with other technologists. Names were drawn for door prizes provided by CMX Medical Imaging, Dr. Frank Shellock and the Institute for Magnetic Resonance Safety, Education and Research. We also awarded the "Best Halloween Costume" to Susan Chin, BSRT from Swedish Medical Center Cherry Hill. The costume challenge was issued by Ray Cruz, RT(R)(MR) who also donated the reward (certificate to the Olive Garden). The competition was steep as only Susan and Ray donned actual costumes for the day. Others (such as the Chapter President) only minimally participated, but the spirit was enjoyed by all!
Back to business in the afternoon: SMRT President-Elect, Charles Stanley CRA, RT (R)(CT)(MR) kept everyone revved up and laughing out loud with his interactive "Communication Skills for Technologists". Paula Mathis, RT (Lantheus Medical Imaging) introduced the audience to "MRA Blood Pool Imaging." The "Road Warrior Award" went to Catherine Anderko, MS, DAVR, CHP (West Physics Consulting) who started her trip to Seattle from a New York airport the day before. Despite the fact that her display didn't make it, Cathy persevered and arrived in time to give her presentation "A New Flair on Accreditation and Quality". We ended the day with an uproarious presentation from Charles Stanley on "MRI UnSafety – The Effects of Mass Media on Public Perception of MRI." Every attendee stayed for the entire meeting – thanks to the "anchor man" Charles!
We had attendees from all over Washington, Oregon and Idaho which truly fulfilled the moniker "Regional". Thank you to the group of volunteers who helped with set-up and registration (Rosanna LeTourneau, Shirley Menzies, Mary Haynes & Shannon Hart), handling the speakers (Chandra Byrd) and meeting photography (Ed Glasser). We would like to thank the sponsors of the meeting: Evergreen Hospital Medical Center for the meeting space and great job the catering staff did keeping us stocked with coffee and snacks, Beekley Corporation, CMX Medical Imaging, Hologic, Inc., IMRSER, Toshiba Medical, and West Physics Consulting. We would also like to acknowledge the vendor representatives who were present with product information: Stephanie Brooks and Shana Seifert from Hologic and Elizabeth Feller and Lyn Hiatt from Bayer Pharmaceuticals. It was a great meeting and we are looking forward the organizing the 2011 seminar!
Meeting registration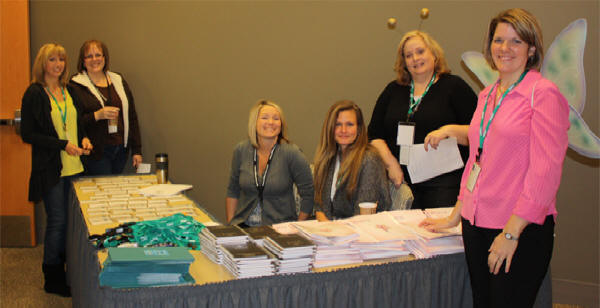 (Left to right) Shirley Menzies, Shannon Hart, Heather Dietz, Cynthia Jennings,
Rosemary Fisher and Chandra Byrd
Networking and enjoying breakfast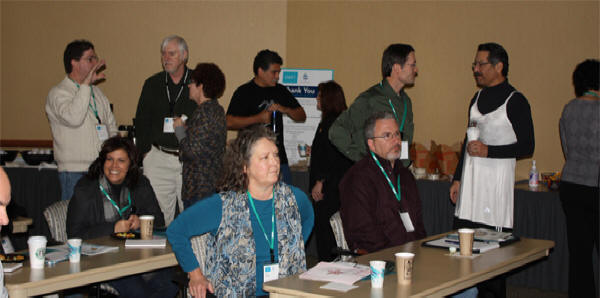 NW SMRT Chapter Officers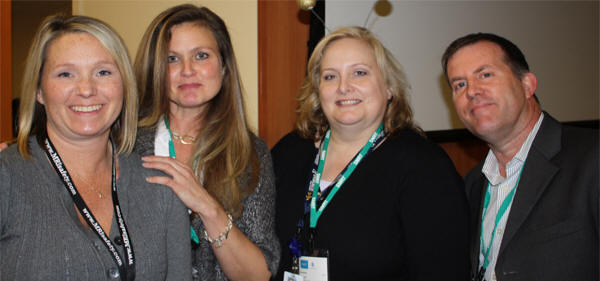 Heather Dietz (Secretary), Cynthia Jennings (Treasurer), Rosemary Fisher (President)
and Charles Stanley (SMRT President-Elect)
Lucky Winner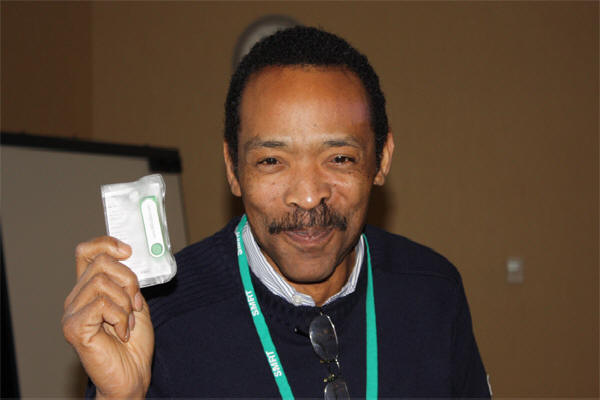 Daniel Lane
Lunch time and networking