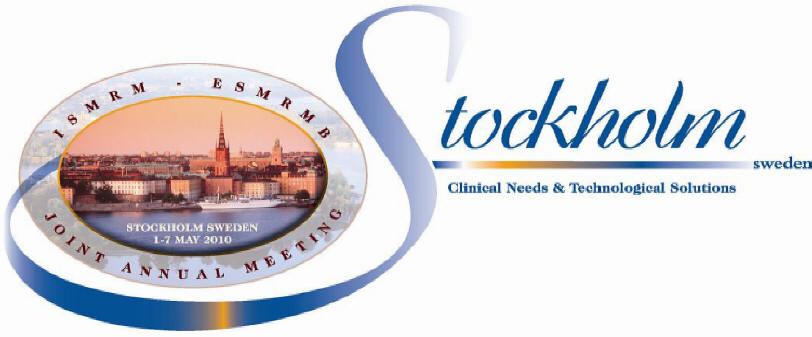 ---
2009 Meeting Analysis
---
Registration Analysis
The ISMRM and ESMRMB are committed to an exceptional Scientific Meeting and Exhibition that is globally accessible and persuasive for meeting attendees around the world. Picture your company in front of the world's most comprehensive network of magnetic resonance specialists. Plan on partnering with ISMRM-ESMRMB in Stockholm!
Global Presence 2009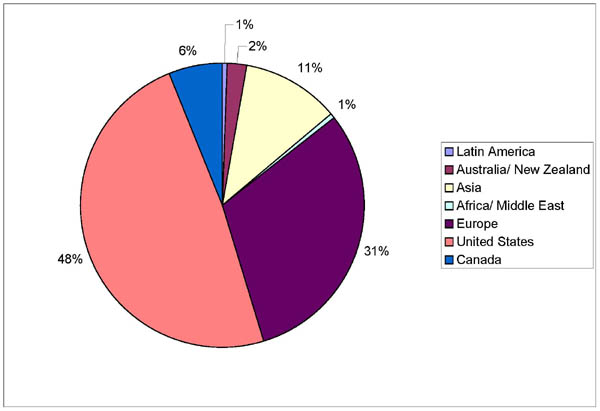 Three-year Growth Pattern
Grow With Us!
The Joint Annual Meeting of ISMRM-ESMRMB offers a unique composition of scientists, physicians and technologists from around the world. It is this diverse attendee population, committed to the development and clinical application of magnetic resonance imaging, that provides companies with a unique opportunity to reach all the researchers, developers, and the end users at the largest meeting in the world dedicated to the advancement of magnetic resonance imaging!
2009 ISMRM Meeting Attendance Statistics
| | |
| --- | --- |
| Abstract submissions | 6048 |
| Oral presentations | 860 |
| Electronic posters | 1760 |
| Traditional posters | 2304 |
| Educational presentations | 472 |
| Student stipends awarded | 647 |
ISMRM Attendance History
| | | | | | | | | | |
| --- | --- | --- | --- | --- | --- | --- | --- | --- | --- |
| | 2001 | 2002 | 2003 | 2004 | 2005 | 2006 | 2007 | 2008 | 2009 |
| Professional Attendees | 3743 | 3516 | 3003 | 3266 | 4491 | 4872 | 5350 | 5324 | 4958 |
| One-day-only Attendees | 52 | 22 | 32 | 65 | 61 | 45 | 106 | 109 | 47 |
| Spouses | 6 | 22 | 6 | 15 | 9 | 10 | 30 | 42 | 33 |
| Exhibits-viewing-only | 15 | 47 | 26 | 52 | 42 | 46 | 55 | 82 | 13 |
| Exhibitor Personnel | 653 | 653 | 564 | 866 | 1043 | 906 | 1043 | 1132 | 630 |
| Guests to the Exhibition | NA | NA | NA | NA | NA | 27 | 7 | 0 | 1 |
| # of Exhibiting Companies | 56 | 53 | 59 | 49 | 60 | 71 | 71 | 86 | 56 |
| | | | | | | | | | |
ISMRM Attendance History 2009
| | | | |
| --- | --- | --- | --- |
| | COUNTRY | 2009 | |
| | Argentina | 1 | |
| | Australia | 86 | |
| | Austria | 27 | |
| | Belgium | 34 | |
| | Brazil | 10 | |
| | Canada | 303 | |
| | Chile | 5 | |
| | China | 121 | |
| | Columbia | 1 | |
| | Cyprus | 1 | |
| | Czech Republic | 22 | |
| | Denmark | 64 | |
| | Estonia | 1 | |
| | Finland | 19 | |
| | France | 95 | |
| | Germany | 408 | |
| | India | 15 | |
| | Ireland | 7 | |
| | Israel | 20 | |
| | Italy | 58 | |
| | Japan | 206 | |
| | Lithuania | 4 | |
| | Luxembourg | 1 | |
| | Malta | 1 | |
| | Mexico | 13 | |
| | Morocco | 1 | |
| | New Zealand | 12 | |
| | Norway | 37 | |
| | Philippines | 1 | |
| | Poland | 10 | |
| | Portugal | 4 | |
| | Romania | 8 | |
| | Russia | 1 | |
| | S. Africa | 5 | |
| | S. Korea | 95 | |
| | Saudi Arabia | 1 | |
| | Scotland/UK | 8 | |
| | Singapore | 21 | |
| | Slovakia | 2 | |
| | Spain | 28 | |
| | Sweden | 55 | |
| | Switzerland | 98 | |
| | Taiwan | 91 | |
| | Thailand | 7 | |
| | The Netherlands | 168 | |
| | Turkey | 15 | |
| | United Kingdom | 355 | |
| | USA | 2408 | |
| | Venezuela | 2 | |