Palais des congrès de Montréal « 201 Viger Avenue West « Montréal, Québec, Canada
---
2010 Registration Analysis
The ISMRM is committed to an exceptional Scientific Meeting and Exhibition that is globally accessible and persuasive for meeting attendees around the world. Picture your company in front of the world's most comprehensive network of magnetic resonance specialists. Plan on partnering with ISMRM in Montréal!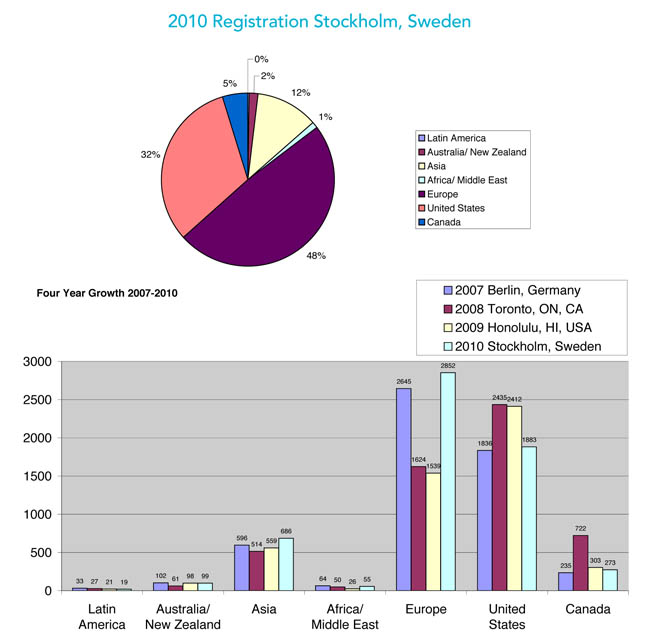 THERE ARE NO BORDERS ON THE ISMRM EXHIBIT FLOOR
The ISMRM Annual Meeting is the largest meeting in the world dedicated to the advancement of magnetic resonance imaging, offering a unique composition of scientists, physicians and technologists from around the world. It is this diverse attendee population— committed to the development and clinical application of magnetic resonance imaging— that provides companies with a unique opportunity to reach all the researchers, developers and end users.
2010 MEETING STATISTICS
| | | | |
| --- | --- | --- | --- |
| | Abstract submissions | 6196 | |
| | Oral presentations | 783 | |
| | Electronic posters | 1986 | |
| | Traditional posters | 2379 | |
| | Educational presentations | 412 | |
| | Student stipends awarded | 766 | |
ISMRM Attendance History: A Decade of Growth
| | | | | | | | | | | |
| --- | --- | --- | --- | --- | --- | --- | --- | --- | --- | --- |
| | 2001 | 2002 | 2003 | 2004 | 2005 | 2006 | 2007 | 2008 | 2009 | 2010 |
| Professional Attendees | 3743 | 3516 | 3003 | 3266 | 4491 | 4872 | 5350 | 5324 | 4958 | 5901 |
| One-day-only Attendees | 52 | 22 | 32 | 65 | 61 | 45 | 106 | 109 | 47 | 42 |
| Spouses | 6 | 22 | 6 | 15 | 9 | 10 | 30 | 42 | 33 | 30 |
| Exhibits-viewing-only | 15 | 47 | 26 | 52 | 42 | 46 | 55 | 82 | 13 | 55 |
| Exhibitor Personnel | 653 | 653 | 564 | 866 | 1043 | 906 | 1043 | 1132 | 630 | 863 |
| Guests to the Exhibition | NA | NA | NA | NA | NA | 27 | 7 | 0 | 1 | 1 |
| # of Exhibiting Companies | 56 | 53 | 59 | 49 | 60 | 71 | 71 | 86 | 56 | 63 |
ISMRM-ESMRMB 2010 ATTENDANCE STATISTICS
Australia................92
Austria..................43
Belgium..................58
Brazil....................6
Canada...................273
Chile......................7
China.....................318
Cyprus...................2
Czech Republic..........30
Denmark.................100
Egypt.....................3
England, UK..............450
Estonia...................5
Finland...................96
France...................209
Germany.................590
India......................15
Greece....................3
Hungary...................2
Iceland....................5
India......................23
Iran.......................1
Ireland....................8
Israel......................36
Italy.......................120
Japan.....................194
Korea (Rep)..............62
Kuwait....................1
Lithuania..................3
Luxembourg...............2
Malaysia...................1
Malta......................1
Mexico ....................6
New Zealand...............7
Norway....................89
Poland.....................18
Portugal ..................8
Rep of Moldova...........1
Romania...................16
Russia......................43
S. Africa ..................10
S. Korea ...................57
Saudi Arabia ..............2
Scotland, UK...............32
Singapore..................25
Slovakia ....................9
Slovania....................3
Spain ......................44
Sweden ....................365
Switzerland................171
Thailand....................6
The Netherlands...........276
Turkey ....................41
UAE........................2
USA .......................1883
Wales, UK.................8