Nicolai Spicher1, Ramon Barakat1, and Thomas Martin Deserno1
1Peter L. Reichertz Institute for Medical Informatics, TU Braunschweig and Hannover Medical School, Braunschweig, Germany
We made use of fifth-generation (5G) cellular networks in the current 3GPP Release 15 for transmitting DICOM data and reached more than 50 Mbit/s upload speed using consumer-grade hard- and software. This holds great potential for cellular transmission of data from portable MRI scanners.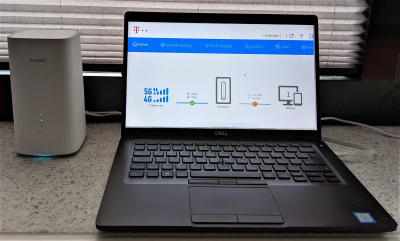 Figure 1: Experimental setup. The laptop is connected via ethernet cable to the 5G router and displays its web-interface.

Table 1: Results of experiments. Transmission times are given as mean ± standard deviation. The reference measurement was perfomed via ethernet connection between the DICOM client and server, therefore quality quantities of cellular networks are not available.