Home | Society Information | Membership | Collaborators | MRI in Iran | Newsletter | Events | Contact Us
Welcome!
Welcome to the Iranian Chapter of the International Society of Magnetic Resonance in Medicine (ISMRM)!
The Iranian Chapter of ISMRM is an organization constituted of the Iranian members who have been or are engaged in MRI education, research or practice inside or outside of Iran and endeavor to promote the science and technology in the field of MRI in medicine and biology.
The Iranian Chapter of ISMRM is to bridge the clinical needs with technological resolutions, decrement the gaps among the clinical and research communities, and help the MRI clinical specialists and scientists in sharing the MRI knowledge.
Chapter Events
Cardiovascular Subchapter of ISMRM Iranian Chapter, in collaboration with GE Healthcare presents:
"Updates in Cardiovascular Imaging"
17 November 2016
Rajaei Hospital, Tehran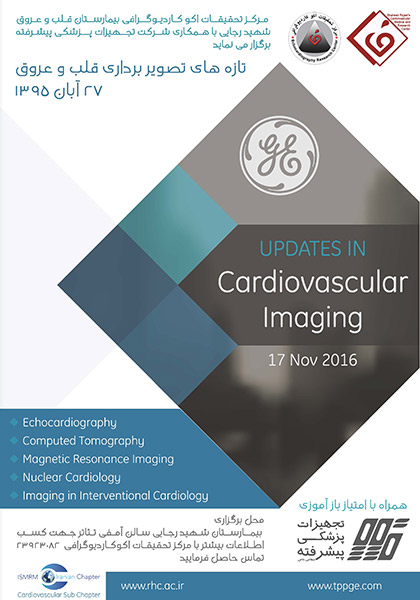 ---
ISMRM Iranian Chapter; Cancer Subchapter Meeting
The ISMRM Iranian Chapters held the Cancer Subchapter meeting on May 4, 2016, 8:30-10:30 AM simultaneously with the Iranian Congress of Radiology.
The report of this event is available on the Events page.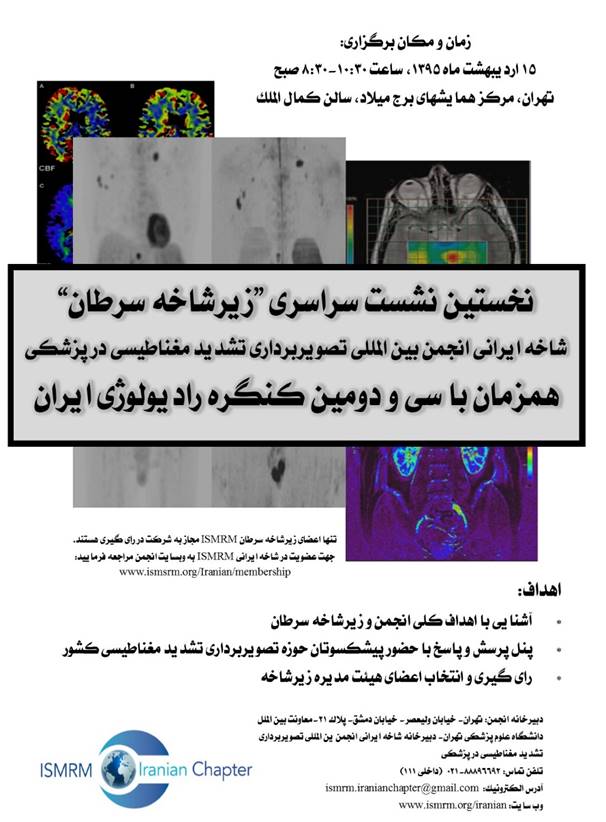 ---
ISMRM Workshop on Cardiovascular MR and CT

26-29 April, 2016
Presented by ISMRM Iranian Chapter in collaboration with:
7th Symposium on Updates in C.V Diseases: "How to approach and manage Cardio-vascular Diseases"
Kowsar Hospital, Shiraz, Iran.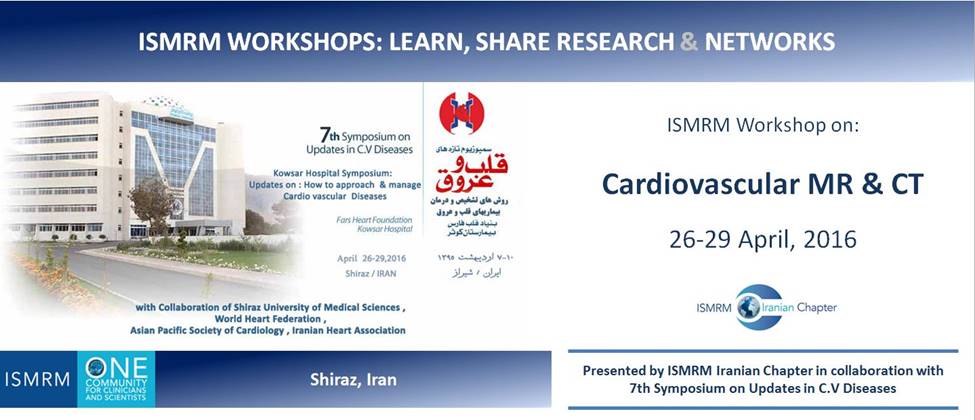 Also a hands-On Workshop related to this topic is held on Thursday, 28 April, 2016. You will be notified as soon as the exact time has been fixed.
For more information about Kowsar Hospital Symposium, you may visit: symposium.kowsar-hospital.ir
Latest News
ISMRM Iranian Chapter Call for Members
ISMRM Iranian Chapter membership has officially initiated. For more information, please visit the ISMRM website: http://ismrm.org/iranian/membership.htm
The membership is free of charge for the upcoming academic year, i.e. 9/1/2015 to 8/31/2016.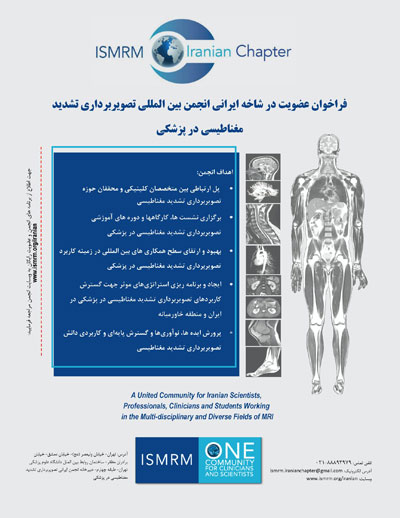 ---
The first meeting for the ISMRM Iranian Chapter-SMRT workgroup was
held on Thursday, December 31, 2015 (Dey 10, 1394) @ 8:30am-12pm.
You may find the full report of the meeting in Events Page.
---