Just for Members
Program Benefits:
Free shipping on orders in the US over $75!
Access to great deals every day online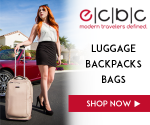 Company Profile
e|c|b|c is an uncompromising line of bags and cases based in Southern California.
A sleek and classy looking exterior constructed of high-density material combined with thoughtful, detailed organization on the interior are only the beginning of what sets ECBC apart from the rest. We brought together the brightest minds in the travel industry to develop an evolutionary line of high quality luggage, backpacks, and messenger bags that offer modern travelers a more functional, fashionable and comfortable way of transporting their technology and everyday essentials.
Serviceable Countries/Regions: Worldwide
The Member Affinity Discount Program is a member-only benefit.
Log in now to access the Member Affinity Discount Program.
Not a member?