On 29 October, 2011, at the Radisson Hotel in Covington, Kentucky, USA, the Kentucky SMRT Local Chapter hosted their inaugural MRI Educational Seminar. Current Kentucky SMRT Local Chapter officers are Barry Southers, BRST, RT(R)(MR) – President; Elizabeth Macaluso, BRST, RT(R)(MR) – Treasurer; and, Amanda Golsch, BS, RT(R)MR) – Secretary. A total of 61 attendees were present and listened to speakers such as internationally renowned MRI educators and past-SMRT presidents Bill Faulkner and Candi Roth. Mr. Faulkner delivered two lectures, one titled "MRI Conditional Pacemaker" and another on "Managing SAR: Preventing Patient Injuries". Ms. Roth also lectured twice at the seminar, first on "MR Contrast Media" and then on "Optimizing Scan Protocols for Enhanced Body Imaging". Other speakers included the Kentucky SMRT Secretary and 2011 SMRT John A. Koveleski Award winner Amanda Golsch, who spoke on "Animal MRI: The Technologist's Role"; University of Cincinnati Neuroscientist Dr. Jane Allendorfer presented on "Neuroimaging Stress in Epilepsy"; and Kentucky Chapter SMRT president and current SMRT Policy Board member Barry Southers, who spoke on "Everything You Wanted To Know About MR Physics But Were Afraid To Ask".

The response to the event, location, speakers, and food was extremely positive. In fact, the speakers combined overall Content Rating was at 98% "satisfied or very satisfied", while the cumulative Speaker Effectiveness also achieved a 98% "satisfied or very satisfied" rating. Furthermore, approximately 94% of attendees felt their expectations were met in regard to the seminar, and 70% plan on attending the 2012 Kentucky SMRT MRI Educational Seminar. Overall, it was a great success!

For more information on future meetings, or how to volunteer for the Kentucky SMRT Local Chapter, please visit their website:

http://www.ismrm.org/smrt/chapters/kentucky.htm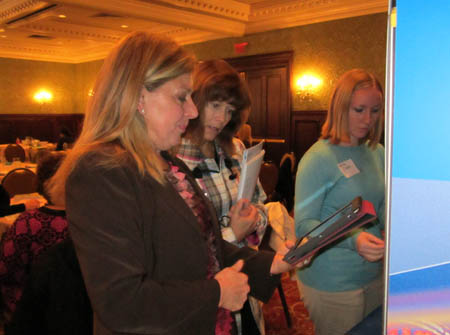 Attendees taking a break during the inaugural Kentucky Chapter SMRT MRI Educational Seminar.


Matt Barkimer, Melanie McDaniel, and Harry Haines visit one of our excellent vendors.

Past SMRT President, Candi Roth always offers good information.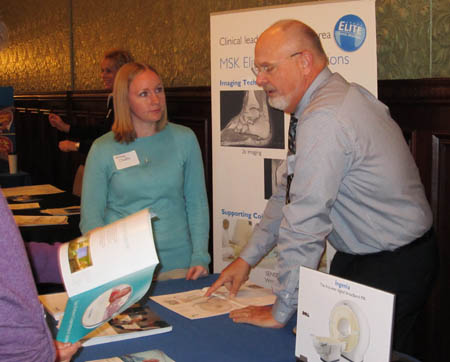 Whitney Chaffin speaks to Philips' Dan Bailey to learn about upcoming technological advances.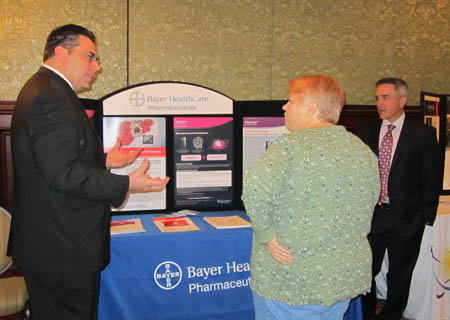 Tony Drake from Bayer educates an attendee during a break.