ISMRM Workshop on
MR Value
John McIntyre Conference Centre, The University of Edinburgh, Edinburgh, Scotland, UK
Travel Information
---
Welcome to
Edinburgh First, The University of Edinburgh
John McIntyre Conference Centre
The University of Edinburgh
Pollock Halls
18 Holyrood Park Road
Edinburgh, EH16 5AY
+44 (0)131 651 2189
Accessing Edinburgh
Airfare Discount Code:
United Airlines: united.com/meetingtravel
Use Meeting Event Code: ZGEE699778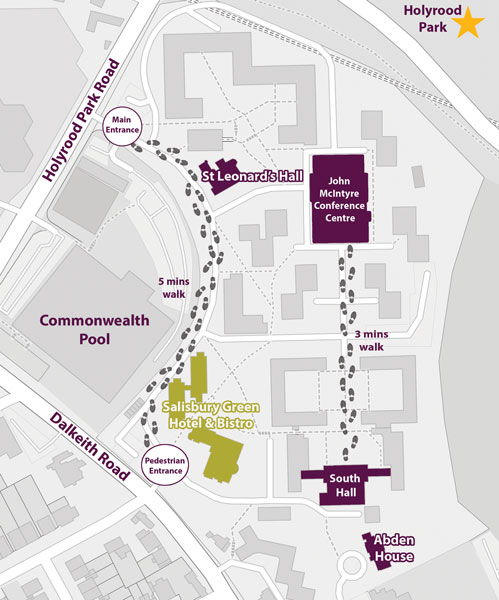 Click to view walking directions
By Air
Edinburgh International Airport
Edinburgh Airport is within easy reach of National and International destinations and well served by many airlines. The airport is located on the outskirts of the city but is well served by taxi, bus and tram services to the city centre. The journey time by car to the city centre is around 20-25 minutes unless during rush hour (07:30 – 09:00 and 16:00 – 18:00) when it may take an additional 15 minutes. A taxi will cost approximately £25. Alternatively, there is a regular tram and bus service from the airport to the city centre. The cost for a single journey on the tram is £5.50 and a return journey is £8.50. The cost for a single journey on the bus is £4.50 and a return journey is £7.50 and can be bought at the airport information desk, at the bus stop, from the driver or online here.
Glasgow International Airport
There are two airports that serve Glasgow, Glasgow International and Glasgow Prestwick. Glasgow International Airport is approximately one hour and thirty minutes' drive from Edinburgh. A taxi can be expensive (approximately £70) and we would recommend taking a taxi from the airport to Glasgow Queen Street Railway Station, where there is a regular train service to Edinburgh Waverley Station. The journey time is approximately 45 minutes and trains depart every 15 minutes, depending on the time of day and costs approximately £13 for a Day Return.
Glasgow Prestwick Airport
Glasgow Prestwick Airport is situated a further 32 miles outside Glasgow. It has its own railway station which will take you to Glasgow Central railway station.
By Rail
Waverley and Haymarket
Both of Edinburgh's main rail stations, Waverley and Haymarket are located in the heart of Edinburgh's City Centre. Edinburgh Waverley (main station) is situated at the east end of Princes Street, and is a 30 minute walk from the conference venue. A taxi from Waverley will cost approximately £7 and will take approximately 10 minutes depending on traffic. The rail network connects to cities all over Scotland and the UK. For more information visit: http://www.edinburghairport.com/transport-links/trains
By Bus
National Express, Citylink or Lothian Buses
Edinburgh's main bus terminal is located at St Andrews Square. Bus connections stretch right across the UK. For details of these routes visit: http://www.nationalexpress.com or http://www.citylink.co.uk. For information on local bus services throughout Edinburgh visit http://www.lothianbuses.com
Getting to the Conference Venue
By Road
If you're coming to Edinburgh from the South, take the A720; City of Edinburgh Bypass, then take the A7 Old Dalkeith Road exit at the Sheriffhall Roundabout going towards the City Centre. Continue straight for approximately 3 miles. Just past the Royal Commonwealth Pool at the lights, turn right onto Holyrood Park Road. Pollock Halls is the second turning on the right.
We have limited on-site parking on a first-come first-served basis.
By Taxi
Taxis can be booked by calling any of the below numbers, these companies are two of the largest fleets in Edinburgh.
Central Radio Cabs: 0131 229 2468
City Cabs: 0131 228 1211
By Bus
From the shop side of Princes Street; take a bus to the Royal Commonwealth Pool on Dalkeith Road, Pollock Halls is a short walk down Holyrood Park Road from the stop.
Lothian Buses: Nos 2, 14, 30, 33 £1.70 is the standard adult one-trip fare. (Note: You'll need exact change)
Munro: 51/52 from North Bridge
Uber
Uber is readily available at the Edinburgh Airport. For more information, download the app.