ISMRM Workshop on
Data Sampling & Image Reconstruction
Enchantment Resort, Sedona, AZ, USA
Call for Abstracts & Trainee Stipend Applications
---
Prospective participants are invited to submit abstracts for oral and poster presentations at this workshop, and participants who qualify (see below) may apply for stipends. Carefully review the following information before submitting.
Submission Deadline: 11 November 2019 @ 23:59 EDT
Abstract Formatting Details:
Abstracts are limited to one page in length (21.59 cm x 27.94 cm / 8.5"x11"), including all images, tables, graphs and references. Font size should be no smaller than 8 pt.
SUGGESTED FORMAT: The abstract should be formatted in one column, containing all of the following sections that answer the questions below:
Abstract title
Author list
Target audience: "Who will benefit from this information?"
Purpose: "Why was this study/research performed?"
Methods: "How has this problem been studied?"
Results: "Principal data and statistical analysis"
Discussion: "What is the interpretation of the data?"
Conclusion: "What is the relevance to clinical practice or future research?"
References: (optional)
Trainee Stipend Application Details:

The workshop organizers welcome applications for trainee stipends. These trainee stipends, funded by the ISMRM Research & Education Fund, are intended to partially subsidize the attendance of clinical trainees (including residents and fellows) within 7 years of obtaining an M.D. or equivalent degree, pre- and post-doctoral fellows within 5 years of obtaining a Ph.D. or equivalent degree, and junior research staff (technologists or research assistants) within 3 years of obtaining a higher degree. Priority will be given to applicants who are first authors on abstracts selected for presentation, but this is not a requirement.
Application Requirements
The applicant must be a Trainee Member of ISMRM. If you are not yet a Trainee Member, please click here to join the society. The deadline to become a member in order to apply for the Trainee Stipend is the same as the abstract submission deadline above.
Please have all stipend submission documents ready before proceeding with the following form, including:
A signed letter addressed to ISMRM and the Workshop Organizers from the applicant requesting support that includes a statement indicating how this workshop may benefit the applicant's current or future research or training;
The applicant's curriculum vitae; and
A signed letter addressed to ISMRM and the Workshop Organizers from the applicant's supervisor confirming the applicant's eligibility for a trainee stipend. The letter should also address financial need and whether requests for support are being made for more than one member of the same group.
Please note: if a stipend is granted to a qualified applicant, a check will be made out or funds will be electronically transferred only to the applicant and not the applicant's institution or supervisor.
Form Upload Confirmation: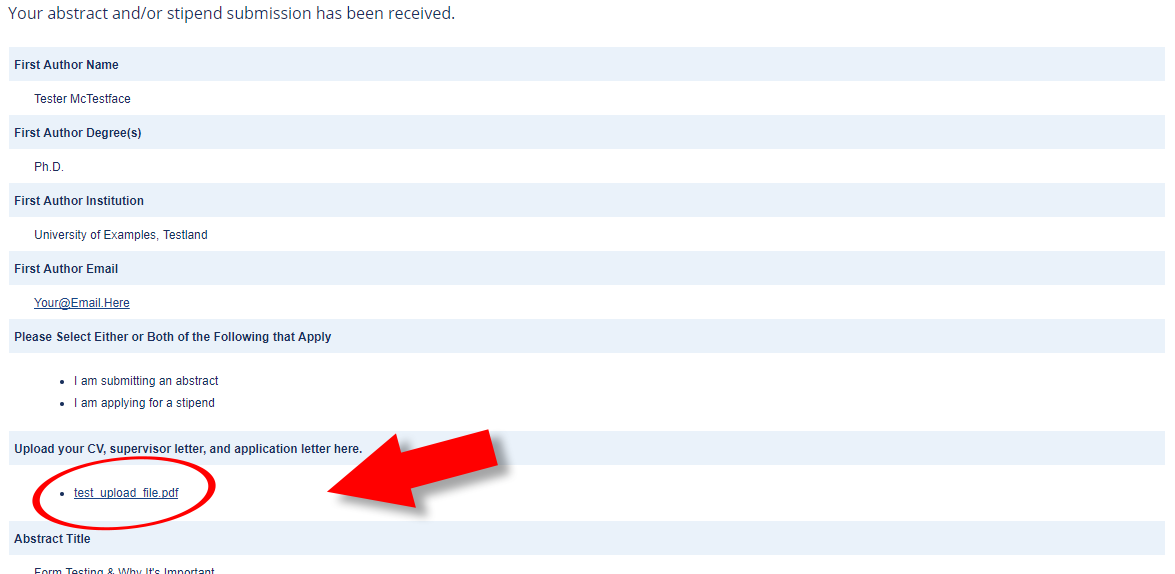 Please upload your abstract/stipend application materials via the submission form on the following page. Once you have submitted the form, you will see a confirmation page similar to this example on the right (click to enlarge).
To be sure that your files uploaded properly, please check the parts of the confirmation page that look like the one noted with the red arrow in the example image. Your filename(s) should appear in these fields.
If this line (circled) reads "File Not Found," your file was not uploaded. If that happens, please contact the Education Department at abstracts@ismrm.org.
If you receive a form error after submitting the form, please fill out and submit the form a second time without uploading a file and email your abstract to abstracts@ismrm.org.
Upon successful upload of your file, you will see a confirmation page showing the details of your form submission. If you do not see this confirmation page, please contact the Education Department at abstracts@ismrm.org to verify your submission.