DID YOU KNOW...
The SMRT is older than the ISMRM? The SMRT was formed by a steering committee represented by the SMRI (Society of Magnetic Resonance Imaging) and the SMRM (Society of Magnetic Resonance in Medicine) and held its first meeting in 1991. Bill Faulkner served as the first President and the meeting was held in San Francisco, California, USA. The ISMRM held their first meeting in 1994 when the SMRM and the SMRM formally merged into one society.
The prestigious Crues-Kressel Award presented for outstanding achievements in MR Technologists education is named after John Crues, M.D. and Herbert Kressel, M.D. in recognition of their efforts and support in founding the SMRT.
Jennifer Olson has been involved with the SMRT since its founding!
UPCOMING SMRT EVENTS
You can become an SMRT member at any of the Regional or Chapter meetings listed below www.ismrm.org/smrt
10 – 11 May 2014
SMRT 23rd Annual Meeting
Milan, Italy
10 – 16 May 2014
Joint Annual Meeting ISMRM-ESMRMB
Milan, Italy
05-07 September 2014
ISMRM/SMRT Workshop on Safety in MRI: Guidelines, Rationale & Challenges
Washington, DC, USA
04 October 2014
SMRT Greater St. Louis Chapter Regional Educational Seminar
O'Fallon, IL, USA

11 October 2014
3rd Annual Kentucky SMRT Chapter Educational Seminar
Covington, KY, USA

15 – 16 November 2014
9th Annual Meeting of the SMRT ANZ Chapter
Adelaide, Australia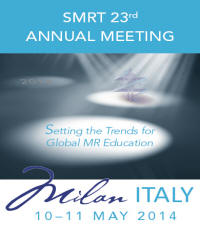 UPCOMING ISMRM EVENTS

More information on ISMRM Workshops can be found here: www.ismrm.org/meetings-workshops/future-ismrm-workshops/
10-16 May 2014
Joint Annual Meeting ISMRM-ESMRMB 2014
Milan, Italy
22-25 June 2014
ISMRM Workshop on Functional MRI: Emerging Techniques & New Interpretations
Charleston, SC, USA

11-14 July 2014
ISMRM Workshop on Motion Correction in MRI
Tromsø, Norway
05-07 September 2014
ISMRM/SMRT Workshop on Safety in MRI: Guidelines, Rationale & Challenges
Washington, DC, USA
06-09 November 2014
ISMRM Workshop on Magnetic Resonance in Cancer: Challenges & Unmet Needs
Austin, TX, USA
12-15 February 2015
ISMRM Workshop on MRI in the Management of Breast Disease: Past, Present & Future
San Francisco, CA, USA

IMPORTANT SMRT DEADLINES
Monitor the SMRT Website for annual meeting information, upcoming regionals, sponsorship information, job opportunities, etc.!
HOME STUDIES
EDUCATIONAL SEMINARS

• SMRT Anatomical Home Studies! (password required)

• SMRT Educational Seminar Home Study, VOL. 17, No. 1: "Foundation of MRI: Imaging Sequences" (password required)

• SMRT Video Home Studies, VOL. 7 (password required)

• SMRT Focused Home Study, VOL. 4, No. 3: "Shifting Imaging Targets in Multiple Sclerosis: From Inflammation to Neurodegeneration" (password required)

Editor's Letter
Julie Strandt-Peay, BSM,R.T.(R)(MR), FSMRT
Signals Editor

"It has been my good fortune to know Jennifer for a long time, during my term on the Policy Board, as President and now as editor of Signals for several years."
Welcome to an issue of E-Signals that contains a distinctive feature. Although this electronic newsletter is produced quarterly for the membership and those who support the efforts of the SMRT...Read more…
Future Goals of SMRT Are Shared by the President
Ben Kennedy, B.App.Sc., Mst (MRI)
SMRT President, 2013-2014

"Our membership value will continue to improve each year as we find new ways in delivering high quality MRI education."
As we arrive at our Annual meeting in Milan, Italy a much anticipated joining of networks from many countries and cultures around the world...Read more…
The SMRT Extends Best Wishes and Farewell as Jennifer Olson Retires

Jennifer Olson has served the SMRT as liaison to the former and current parent society ISMRM for more than a quarter of a century. During that time she has endeared herself to hundreds of members and the SMRT leadership, which has changed on a yearly basis... Read more…
ISMRM Executive Director Shares Memories of Jennifer Olson
Roberta Kravitz
ISMRM Executive Director

"Jennifer has been my constant, my colleague, my support, my teacher, my friend."
In 1991 I was asked by the Executive Director of the SMRM to travel to Berlin and help out at the 1992 annual meeting... Read more…
JOIN US IN ITALY! SMRT Annual Meeting is in Milan!
Rhonda F. Walcarius, B.Sc.(MRT)(R)(MR)
2014 Chair, Program Committee

"Also, as in past years, we have a great selection of Clinical and Research proffered papers to be presented by our colleagues from around the globe."

Sheryl Foster, MHSc. (MRI)
2014 Chair, Education Committee
James J. Stuppino, B.S., R.T.(R)(MR)
Joint Forum Co-Chair
The SMRT is proud to present the 23rd Annual SMRT meeting in Milan, Italy on 10 -11 May, 2014. It's not too late to register... Read more…
Western Canada Hosts Successful Educational Meeting
Tammy Goudreau, B.SC., R.T. (MR)RTR, Co-Chair

Martin Sherriff, B.App.SC, R.T.(MR), Co-Chair

"The success of this first Western Canada SMRT Regional has brought upon many requests for a sequel."
The first Western Canada MRI Symposium (Regional) was held on Saturday, March 1st in Calgary, Alberta, Canada... Read more…
Reflections on the Benelux SMRT Chapter
Vera Kimbrell B.S., R.T.(R)(MR), SMRT Past- President

"It's most impressive to me when professionals pursue education without compulsion and in spite of lack of funding."
During the past 10 years I've traveled the globe representing the SMRT in several capacities. I've been very fortunate to have met some really great people and made lasting friendships around the world... Read more…
64th Home Study: MRI of the Abdomen: Adrenal Gland and Biliary Tract
Anne Marie Sawyer, B.S., R.T. (R)(MR) FSMRT
Editor, SMRT Home Studies

"At present, MRI/MRCP rivals, and in many cases has greater advantages, in biliary tract display compared with the previous standard endoscopic retrograde cholangiopancreatography (ERCP) or percutaneous transhepatic cholagangiography (PTC). ERCP and PTC are now relegated for interventions, not for diagnosis alone."
We are pleased to present the SMRT Educational Seminars, Volume 17, Number 2: "MRI of the Abdomen: Adrenal Gland and Biliary Tract." (coming soon!) This is the 64th accredited home study developed by the SMRT, exclusively for SMRT members. The accreditation…Read more…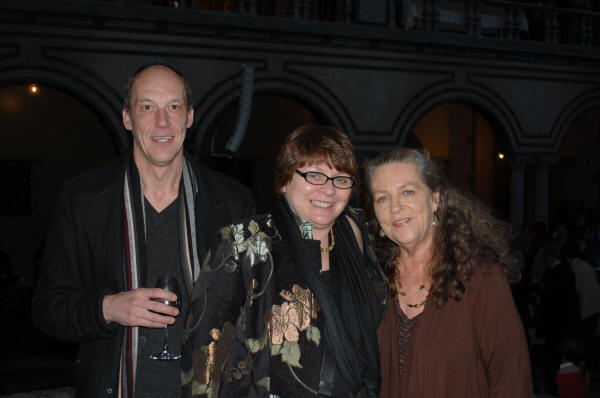 Jennifer with Filip DeRidder and Maureen Ainsley - 2010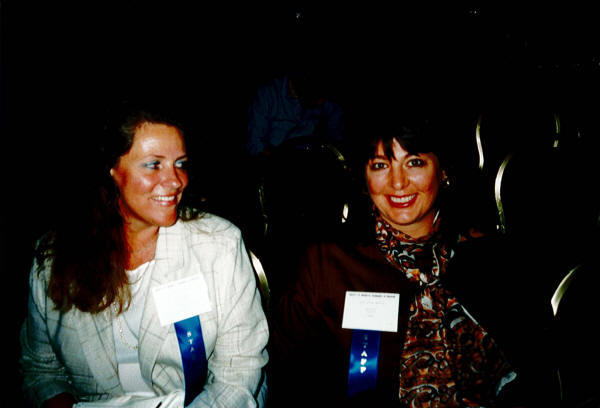 Jennifer and Jennie Engle of the SMRM Business Office - 1988
E-Signals is a publication by the International Society for Magnetic Resonance in Medicine for the benefit of the SMRT membership and those individuals and organizations that support the educational programs and professional advancement of the SMRT and its members. This publication is the compilation of the leadership of the SMRT and the contributions of the staff in the ISMRM Central Office.