By Zahra Hosseini & Phillip Ward
Recently, we had the pleasure to sit down and have a chat with Dr. Hongjiang Wei and Dr. Chunlei Liu about their editor-selected manuscript entitled "Investigating Magnetic Susceptibility of Human Knee Joint at 7 Tesla." The conversation took a technical turn right away, when we asked the authors about their chosen technique, quantitative susceptibility mapping (or QSM). Hongjiang explained that, "quantitative susceptibility mapping is an approach to, as the name implies, extract a map of the underlying tissue susceptibility on a pixel-by-pixel basis. QSM computes the magnetic susceptibility from the phase signal of gradient recalled echoes with the assumption that phase shift is mainly due to susceptibility induced field inhomogeneity." In simple terms, it is a map that demonstrates how tissues interact with the magnetic field of the MRI scanner.

By Maria Eugenia Caligiuri
Kathleen Ropella received her Bachelor's Degree in Biomedical Engineering at Marquette University, and her Master's Degree at the University of Michigan, where she will defend her PhD thesis this semester (busy times ahead!).
Douglas C. Noll did his PhD in Electrical Engineering with Al Macovski at Stanford, after being introduced by his intramural basketball pals, Dwight Nishimura, Steve Conolly, and Craig Meyer. In 1991, he started his first faculty position at the University of Pittsburgh, working on functional MRI with the first 3T magnet GE ever made. Doug later transitioned to be a professor of biomedical engineering at the University of Michigan – so he's been in the field of MRI for about 30 years now!
Their paper, "A Regularized, Model-Based Approach to Phase-Based Conductivity Mapping Using MRI," was focused on two things: first, achieving accurate measurements of conductivity – which describes the ability of a tissue to conduct electric current – at tissue boundaries; and second, the possibility of using non-quadratic regularizers, thanks to advances in compressed sensing.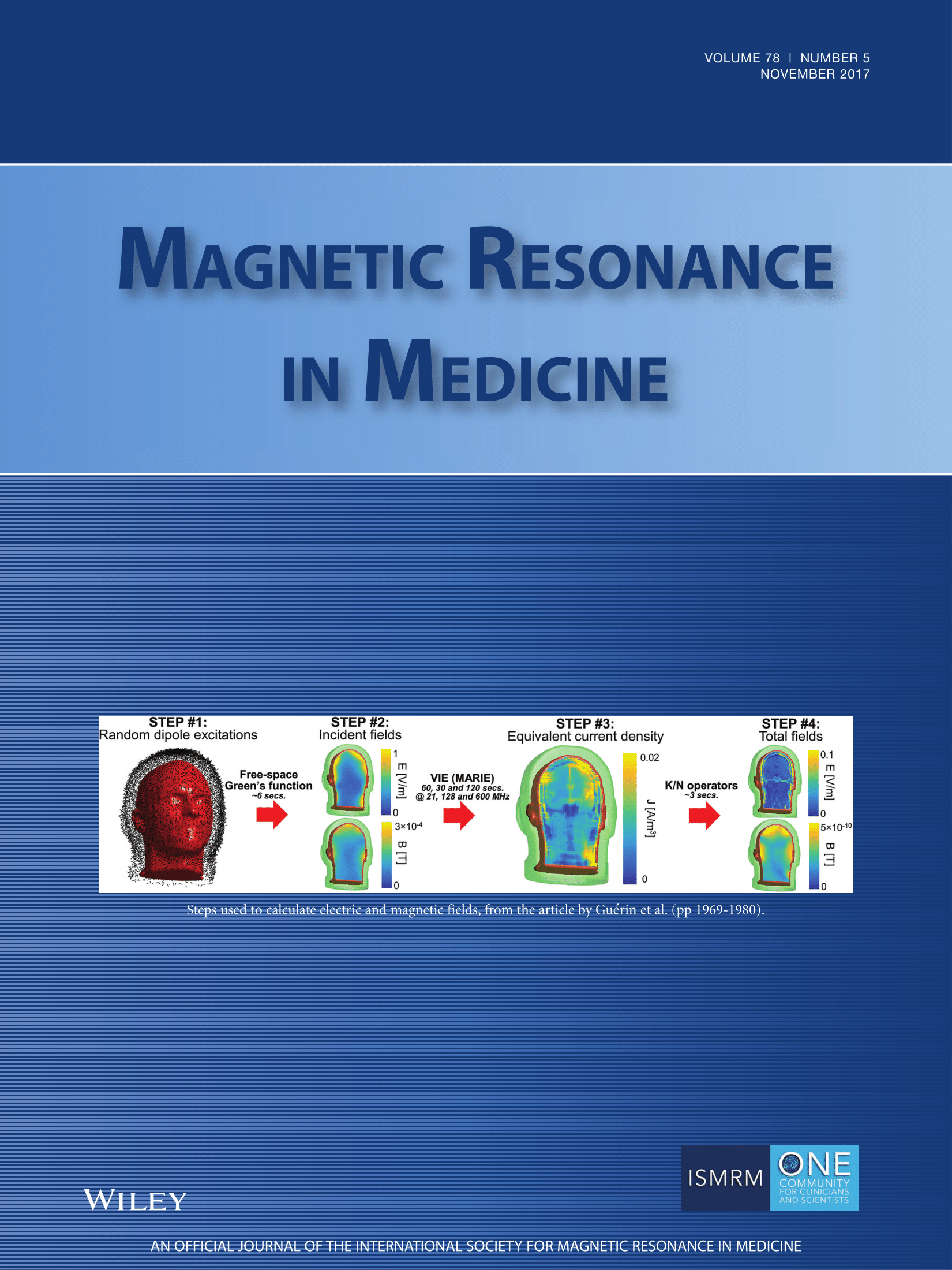 November Cover Art
The ultimate signal-to-noise ratio in realistic body models, by Bastien Guérin, Jorge F. Villena, Athanasios G. Polimeridis, Elfar Adalsteinsson, Luca Daniel, Jacob K. White and Lawrence L. Wald
November Editor's Picks
Investigating magnetic susceptibility of human knee joint at 7 Tesla, by Hongjiang Wei, Russell Dibb, Kyle Decker, Nian Wang, Yuyao Zhang, Xiaopeng Zong, Weili Lin, Daniel B. Nissman and Chunlei Liu
A regularized, model-based approach to phase-based conductivity mapping using MRI, by Kathleen M. Ropella and Douglas C. Noll
Audioslides: coming soon!

By Ryan Topfer
A Highlights Halloween special: For those less than BOLD researchers who remain frightful of Nyquist ghosts, fear not! Johanna and Klaas herein reveal their trick for treating shim and gradient coil-induced field distortions with full cross-term pre-emphasis and, more generally, some tricks of the trade – "How to Make It" in the world of MR engineering research.