ISMRM Virtual Meetings

🕗 All virtual meetings begin at 16:00 UTC unless otherwise noted. Registration closes the day before the meeting at 19:00 UTC. Registration is limited to ISMRM & SMRT members only.
Our Next Virtual Meeting:
ISMRM Electro-Magnetic Tissue Properties Study Group Virtual Meeting:
Hot Topics in Electro-Magnetic Tissue Property

Moderator: Berkin Bilgic, Ph.D., Vice-Chair, Electro-Magnetic Tissues Properties SG
The 'Whys' & 'What's' of Detecting Beta-Amyloid Plaques at High Magnetic Fields in Alzheimer's Disease
Gisela E. Hagberg, Ph.D.
University Hospital Tübingen
Tübingen, Germany
MR Electric Properties Tomography in Breast Imaging: The Clinical Experience
Soo-Yeon Kim, M.D.
Seoul National University Hospital
Seoul, South Korea
Future Virtual Meetings:
SMRT Virtual Meeting in Collaboration with the ISMRM Diffusion Study Group:
Diffusion MRI of the Spine: What the Clinician Wants & How Optimization Can Deliver It

Moderators: Shawna Farquharson, Ph.D., and Kurt Schilling, Ph.D.
Click here for more details.
Diffusion MRI of the Spine: What the Clinician Wants
Francesca Bagnato Ph.D.
Vanderbilt University Medical Centre
Nashville, TN, USA
Diffusion MRI of the Spine: Sequence Optimisation
Ben Kennedy, M.Sc., B.Appl.Sc.(MRI)
QScan Radiology Clinics
Brisbane, QLD, Australia
ISMRM Spotlights Africa: Doing Much with Little

Moderators: Vikas Gulani, M.D., Ph.D., & Henk-Jan Mutsaerts, M.D., Ph.D.
Despite the emergence of Magnetic Resonance Imaging (MRI) over forty years ago, most countries in Africa still have limited access to this clinically beneficial and revolutionary imaging tool. In developed nations, MRI is an essential health technology and the rapid use of MRI research in clinics have undeniably transformed how- complex diseases such as cancer, stroke and heart diseases are managed, leading to the dramatic increased use of this expensive but necessary technology. In Africa on the other hand, the lack of infrastructure to operate MRI centers and a severe shortage in skilled MRI personnel have sustained the limited access to MRI. With nearly one-fifth of the world's population, Africa has on average less than 0.5 MRI units per 1 million inhabitants compared to 20-37 units/million in the USA and Western Europe.
This session shines a light on the challenges to access and use of MRI in sub-Saharan Africa and opportunities for growth. The session will feature five 12-minute talks on this theme by MRI practitioners in Africa, followed by panel discussion (30 minutes) and unique networking opportunities (30 minutes) via Break-out rooms.
MRI in Practice in Africa
Abiodun Fatade, MBBS
Crestview Radiology
Lagos, Nigeria
Diagnosing Cardiac Disease Using MRI in Sub-Saharan Africa: Battling Cardiac Disease in a Perfect Storm
Ntobeko Ntusi MBChB
University of Cape Town
Cape Town, South Africa
Breast MRI in Africa: Current Status and Challenges of Implementation In Screening, Diagnosis, Staging and Follow-Up
Prof Nagla Abdel Razek, MBBS
Cairo University
Cairo, Egypt
The Role of Machine Learning in MRI in Low- and Middle-Income Countries
Prof Daniel Alexander PhD
University College London
London, England, United Kingdon
Developing Techniques for Low-Field MRI Applications in Sub-Saharan Africa
Johnes Obungoloch PhD
Mbarara University of Science and Technology
Mbarara, Uganda
30-minute Q&A and Panel Discussion
——
30-minute Interactive Networking Session in Break-Out Rooms
Check back soon for more meeting announcements!
Looking for past Virtual Meetings or curious what topics have been covered before?
🕑 A NOTE ABOUT TIME 🕖
All times on this page are shown first in UTC, followed by the time in your local time zone. This conversion is done in-browser and no location information is sent to ISMRM.
If the local times are inaccurate, check your device's time zone settings.
Help: Windows | Mac | Android | iOS
If the you see "Invalid date" messages, your browser may be blocking the javascript used to make the time conversion. Please either turn off your script blocker or use a time zone converter like WorldTimeBuddy or TimeAndDate to get your local times manually.
The ISMRM is committed to providing opportunities for its members to connect, engage and develop. As an ISMRM member, you have access to: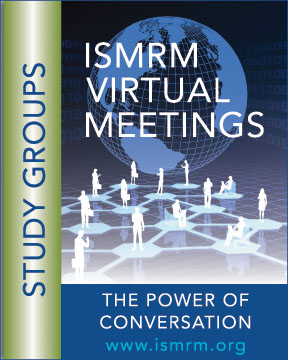 Study Group Virtual Meetings: A platform for 27 study groups, established to foster interaction among members with a common interest in topical and active areas of MR. Topics for discussion come from the study groups with discussion and debate promoted by expert moderators, with contributions from the virtual audience. Registration is free and open to all ISMRM members, with priority given to members of the respective Study Group.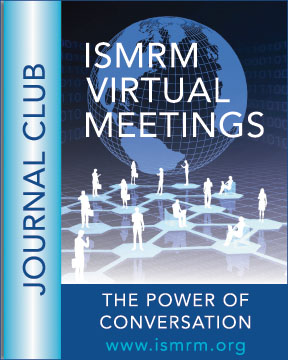 Journal Club Virtual Meetings: A platform for a dynamic, international, cross-cutting journal club moderated by experts in the field. The papers for discussion come from the Society's journals with live access to the authors. Discussion and debate are promoted by expert moderators, with contributions from the virtual audience. Registration is free and open to all ISMRM members.