Your New ISMRM Strategic Plan
(updated March 14, 2018)
                                                            
This year, the ISMRM has undertaken a Strategic Planning Process, with the overall theme of "Connecting MR in a Changing World." Here is some information on the results of that process so far.  We encourage you to comment, and to make it yours!
THE PLAN
PDF format: 2018 ISMRM Strategic Plan – working draft 2018-03.pdf
PPT format: 2018 ISMRM Strategic Plan – working draft 2018-03.pptx (file will download)
YOUR FEEDBACK
Help us make our strategic plan plan a living instrument of our collective will and aspiration.  Make it yours.  Here are a few suggestions of how you can do so:
Submit your comments:
Suggest new tactics, or initiatives, that might further our objectives and/or address the imperatives we face.
Don't wait – go ahead and get started with new initiatives, and let the ISMRM leadership and central office know how we can support you.
Share your own stories, of discovery or of human interest, with us. As part of the imperative to tell the story of MR, we are working on new mechanisms to engage the public at large.
Participate in upcoming feedback sessions, in the form of virtual meetings, tweet chats, etc (stay tuned at ismrm.org for scheduling details).
Look for opportunities to reflect together on the role of MR in a changing world at our upcoming Annual Meeting in Paris (via plenary sessions, secret sessions, etc).
Stir up your own eddies of conversation, involving colleagues both within and beyond the traditional boundaries of our field.
Feel free to suggest other ways of enriching the conversation. The more the merrier.

ANCILLARY INFORMATION
Background: Preparatory White Paper for ISMRM Strategic Planning Process 2017-2018 Connecting MR in a Changing World.pdf

SUMMARY TABLE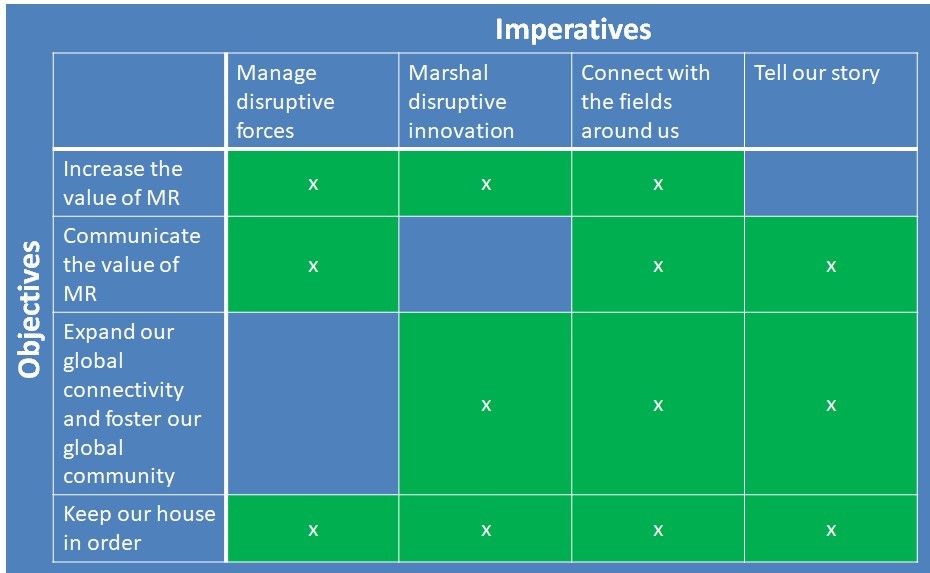 THE PROCESS
At our last Annual Meeting in Honolulu, in June of 2017, discussions began on our Board of Trustees.  In brief remarks in the plenary hall near the close of the meeting, I also invited our community at large to join in the brainstorming.  Then, in July, a small task force met in Wolfeboro, New Hampshire to review our mission and vision, and to enumerate concrete objectives and tactics.  This task force comprised a small cross-section of past and current Society leadership, along with representatives of various regions and specialties, including both established and early-career investigators.  The output of the retreat was distilled into a compact document, which was presented to and discussed by the ISMRM Board at its November meeting in Chicago.  The draft plan was also shared with the Annual Meeting Program Committee at its construction meeting in Nice in January of 2018.  We are still refining ideas and collecting feedback in the wake of these discussions.
Now it is your turn.