Members in the News

Denis Le Bihan, M.D., Ph.D.
Technology Award 2021 of the Eduard Rhein Foundation
16 February 2021
Penny A. Gowland, Ph.D.
2020 Peter Mansfield Medal and Prize recipient
02 November 2020
Richard W. Bowtell, Ph.D., M.A.
2020 James Joule Medal and Prize recipient
02 November 2020
Ben Jeurissen, Ph.D.
Together with an international team of scientists, ISMRM member Ben Jeurissen used MRI scans to reveal how the brain adapts to life in space.
https://www.theguardian.com/science/2020/sep/04/scans-reveal-how-brain-adapts-to-life-in-space
https://www.businessinsider.com/space-travel-new-motor-skills-blurred-vision-study-2020-9
https://advances.sciencemag.org/content/6/36/eaaz9488
07 September 2020
Kevin M. Brindle, D.Phil.
Outstanding scientists elected as Fellows and Foreign Members of the Royal Society
29 April 2020
Hiroyuki Fujita, Ph.D.
Cleveland Clinic Names New Chair of Hillcrest Hospital's Board of Trustees
16 January 2020
Roderic Pettigrew, M.D., Ph.D.
Dr. Roderic Pettigrew receives esteemed National Academy of Engineering award
17 October 2019
Mark Griswold, Ph.D.
Microsoft Quantum Algorithm Boosts Medical Imaging
15 July 2019
Vikas Gulani, M.D., Ph.D.
World-renowned radiology expert named chair of U-M Department of Radiology
21 June 2019
Nola Hylton, Ph.D.
Nola Hylton, PhD, Recognized as 2019 SBI Honorary Fellow
04 April 2019
Derek K. Jones, Ph.D.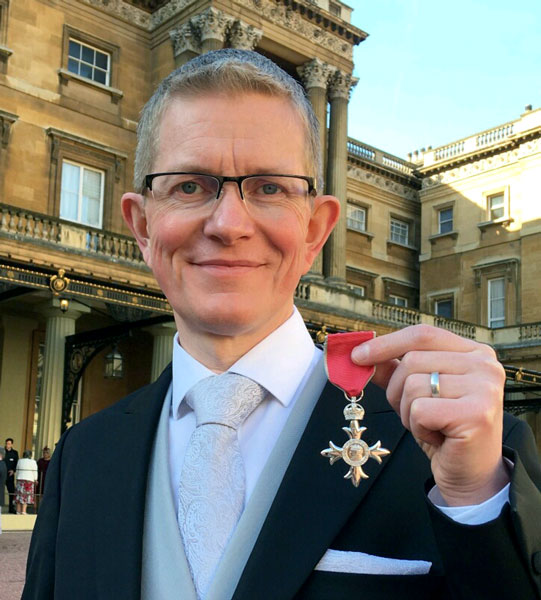 CUBRIC Director awarded MBE
04 February 2019
Hiroyuki Fujita, Ph.D.
Hiroyuki Fujita appointed by the Japanese government as the new Honorary Consul of Japan in Cleveland
28 November 2018
Pia Maly Sundgren, M.D., Ph.D.
Pia Maly Sundgren, professor of radiology, was awarded "The Nelson Mandela Gold Medal 2018" and named honorary member of the South Africa Radiology Society. Pia has for several years supported South African radiology in several respects. She received the medal for "her unique and extraordinary contribution and support to Radiology Education in South Africa."
14 October 2018
Derek K. Jones, Ph.D.
BBC News: Cardiff Brain Scanner (video)
04 July 2017
Jeffrey L. Duerk, Ph.D.
New Provost of University of Miami
01 June 2017
Raquel del Carpio-O'Donovan, M.D., FRCPC
Recipient of the 2017 Gold Medal of the Canadian Association of Radiologists
10 March 2017
David A. Bluemke, M.D., Ph.D.
New Editor of RSNA Radiology
11 November 2016
Mark Griswold, Ph.D.
HoloAnatomy app for Microsoft's HoloLens augmented reality (AR) headset landed first place for the immersive virtual reality and augmented reality category during the 2016 Jackson Hole Wildlife Film Festival Science Media Awards competition
22 September 2016
Derek K. Jones, Ph.D.
Europe's biggest brain imaging centre opened by Queen
Hundreds greet the Queen as she unveils Cardiff University's £44m brain imaging centre
07 June 2016
Peter Morris, Ph.D., M.A.
Honour for University of Nottingham academic
31 December 2015
Dr. Vivian Lee, M.D., Ph.D., M.B.A.
High Honor for the U of U Medical School's Vivian S. Lee: Election to the National Academy of Medicine
19 October 2015
What Are a Hospital's Costs? Utah System Is Trying to Learn
07 September 2015
Felix W. Wehrli, Ph.D.
Awarded Honorary Doctorate
24 April 2014
Denis Le Bihan, M.D., Ph.D.
Awarded the 2014 Louis-Jeantet Prize for Medicine
21 January 2014
Jürgen K. Hennig, Ph.D.
Awarded Honorary Doctorate
13 January 2014
Orlando P. Simonetti, Ph.D.
President of the Society for Cardiovascular Magnetic Resonance (2014)
01 January 2014
Jonathan Lewin, M.D.
Appointed Senior Vice President of Integrated Healthcare Delivery
01 October 2013
Rama Jayasundar, Ph.D.
Women and Technological Innovation National Award (2013) for achievements and original, innovative applications of Nuclear Magnetic Resonance Imaging and Spectroscopy
Bhartiya Stree Shakti National Conference, Indore, India
June 2013
Hiroyuki Fujita, Ph.D.
Quality Electrodynamics Receives Presidential Award for Exports
20 May 2013
Dan Ma, Vikas Gulani, Nicole Seiberlich, Kecheng Liu, Jeffrey Sunshine, Jeffrey Duerk and Mark Griswold
New MRI method fingerprints tissues and diseases, potentially leading to earlier, quicker diagnoses
please also see:  nature.com article
20 March 2013
Hiroyuki Fujita, Ph.D.
Appointed to the U.S. Manufacturing Council
14 March 2013
Norbert, J. Pelc, Sc.D.
Elected to National Academy of Engineering
09 February 2012
Hiroyuki Fujita, Ph.D.
Invited to attend 2012 State of the Union Address
24 January 2012
Ulrike Dydak, Ph.D.
Outstanding New Environmental Scientist Award (ONES)
29 November 2011
Jeffrey L. Duerk, Ph.D.
Appointed new Dean of the Case School of Engineering
15 November 2011
Herbert Y. Kressel, M.D.
RSNA Gold Medal Award Recipient
27 October 2011
Hiroyuki Fujita, Ph.D.
American Physical Society (APS) names top five high tech job creation companies in America
03 October 2011
Vivian S. Lee, M.D., Ph.D., M.B.A.
Appointed University of Utah Senior Vice President for Health Sciences
01 July 2011
Christine L. MacDonald, Ph.D.
Brain Injuries Are Seen in New Scans of Veterans
01 June 2011
Gregory Sorenson, M.D.
Appointed to Head Siemens Healthcare U.S. and Canada Organizations
12 May 2011
Rola Shaheen, M.D., F.R.C.P.C.
Appointed the Susan G. Komen Regional Director for the Middle East
(announcement excerpted from the Beth Israel Deaconess Medical Center Radical Views newsletter)
April 2011
David Feinberg, M.D., Ph.D.
Superfast MRI Technology Helps Map Human Brain
10 March 2011
John C. Gore, Ph.D.
John Gore elected to National Academy of Engineering
09 February 2011
20 December 2010