By Nancy Hill Beluk, R.T.(R), 2020-2021 SMRT President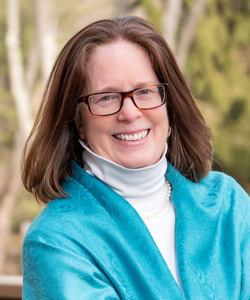 The 2021 Annual Meeting will soon be upon us, and my presidency will come to a close.  As I reflect on my term, a quote comes to mind…
'You have to do your own growing no matter how tall your grandfather was.'
-Abraham Lincoln
Which sums things up perfectly. Even with a shortened term, my growth and understanding has increased two-fold from when I entered.  I leave with a greater respect for the inner workings of the SMRT, the fully voluntary Policy Board, and the dedicated staff in the ISMRM Central Office.  I leave with a greater appreciation of the teamwork needed in completing tasks that were so well laid out by my predecessors.  And I leave knowing that the SMRT will continue to flourish under the incredibly watchful eye of the incoming President, Policy Board, and Executive Committee members.
During the SMRT Business Meeting on Monday May 17th, we will say "adieu" to Shawna Farquharson, Cindy Comeau, Claire Mulcahy, Sarah Green, and Mark Denham. An extremely competent, and dedicated, group of individuals who took on more then what was asked of them in every situation.  We thank them all for their years of service.
Following in their footsteps will be:
Anne Dorte Blankholm – President (EU)
Sony Boiteaux – President-Elect (NA)
Jim Stuppino – Treasurer (NA)
Chris Kokkinos – Executive Officer (AUS)
Jacob Cameron – Policy Board (NZ)
Vicky Liao – Policy Board (NA)
Liana Sanches – Policy Board (SA)
Rhys Slough – Policy Board (EU)
2021-2022 will bring in perhaps the most globally diverse, and gender balanced, board to date!  Which says a lot for our membership and their involvement in each step of the election process.
My final hurrah is this year's Annual Meeting.  An event that should have been a celebration of our 30th year as a society.  No small task.  And one we had planned to commemorate with all the pomp and circumstance (with me in pearls and plaid, of course).  Yet this achievement did not get the attention it deserved as we struggled through another year within a global pandemic.  Which makes the theme for this year's Annual Meeting, 'Bridging Gaps: Integrating Clinical Translation of Research Developments in an Evolving Global Environment', all the more relevant as it was chosen before we knew we would not be meeting in Vancouver, in-person.  How better to sum up this last year than as an "evolving global environment"?  The world evolved and we, the SMRT, evolved and adapted right along with it.  We didn't let COVID stop us.  We forged ahead producing yet another incredible program including:
A 5-part Master Class, MR Safety: From Folklore to Physics, presented by Dr. Donald McRobbie
The President's Lecture presented by Dr. Tom Grist
The Plenary Lecture presented by Dr. Carolyn Mountford
The Keynote Lecture presented by Dr. Eva-Maria Rathai
An updated format to our Abstract Session giving the 7 award winners (President's, 1st, 2nd and 3rd place winners in both clinical and research areas) a platform to present their work and field questions from attendees
The return of the International Clinical Sessions presented by members in different regions of the world in different languages
A meeting program scheduled around the clock, for 6 days, so members can participate at a time that fits their needs
Live social and networking virtual events throughout the week enabling members to connect with fellow meeting attendees
Now I must say "adieu".   I leave knowing that I did my best to prepare each day for the challenge ahead (but let's be honest, NO ONE could have prepared themselves completely for last year!) and I embraced them all during my SMRT Presidency.  I saw Board members come prepared, every week, and face each challenge with similar gusto.  I am grateful for THEIR hard work and dedication.  The reigns are now being passed to Anne Dorte Blankholm and her 2021-2022 Executives.  I know they are up to the challenge of making their mark on moving our society into the next decade.
'I thank you all for your part in my journey'
-Unknown
Warm Regards,
Nancy Hill Beluk