Member Spotlight for September 2020:
Kristina Pelkola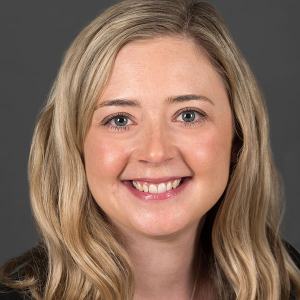 Kristina M. Pelkola, B.Sc.,R.T.(R)(MR)
Chief Research MRI Technologist
Boston Children's Hospital
Boston, MA, USA
SMRT Member since 2014
When I was a child, I had many imaging studies and found this very subject interesting. My aunt, a CT technologist, introduced me early on about imaging professions. When I graduated college, I was cross-trained into MRI and absolutely fell in love with it! From scanning stat stroke exams to breast biopsies to routine knee exams, it's truly amazing that one modality can be utilized in so many ways. I got involved with research exams about 9 years ago and found it very interesting. My mentor taught me a great deal about research sequences, research equipment, and homemade coils. The lab I worked in laid down the groundwork and provided me the tools for my job today. Working at Boston Children's Hospital in research has been and still is an astounding experience. Each day, I am able to learn and grow professionally with the guidance and support of my director and colleagues. I am forever grateful to be part of such a nurturing and positive community.
I love how versatile the modality is. In one day you could scan a fetal exam, then a prostate biopsy, and then a functional MRI study. What modality serves so many purposes other than MRI? This allows technologists to be experienced and well-versed in many imaging techniques and exams. MRI is definitely the most creative modality—if a patient doesn't fit in the head coil, we find a way to utilize other coils to ensure this patient receives the imaging they need. I've often thought of the imaging coils as Lego pieces: if one doesn't fit right, try another; the options are endless. Without MRI, life-saving diagnoses and timely treatments would not occur.
I joined SMRT because I wanted to attend the annual meetings to learn and to broaden my knowledge. I love speaking with other technologists, asking for examples how their facility operates to what imaging techniques they perform. The SMRT has provided a wealth of knowledge about MRI safety which has been quite helpful in practice. What I love most about SMRT is the feeling of community and the openness of sharing that occurs. If you have a question, someone here knows the answer and is there to help.
My favorite study groups are Motion Correction and Fetal & Placental:
Motion Correction: I am the new SMRT Representative for the ISMRM Motion Correction Study Group. This topic is the main passion of my director Dr. Simon K. Warfield, and he has allowed me to experience a vast array of different techniques and instruments in order to perform retrospective and prospective motion correction.
Fetal & Placental: This past conference I submitted an abstract about fetal cardiac imaging. At Boston Children's Hospital, we see many fetal studies each week, and we hope our work will one day help many infants.
I'm very blessed, and my family consists of my wonderful husband Brian, lovely 5-month-old daughter Sophia, and adventurous puppy Barney. We wake up early and our daughter Sophia has a bottle, and we have coffee. With COVID-19 precautions, we are both working from home and adjusting to life! Some days I go into the hospital to perform trainings or participate in studies. In pre-COVID-19 times, we loved to travel and explore new places, but our favorite vacation spot is Disney World. We are a Disney-loving family! My husband loves to cook, and we love hosting delicious dinners with friends and family.