Member Spotlight for February 2021:
Maria Aristova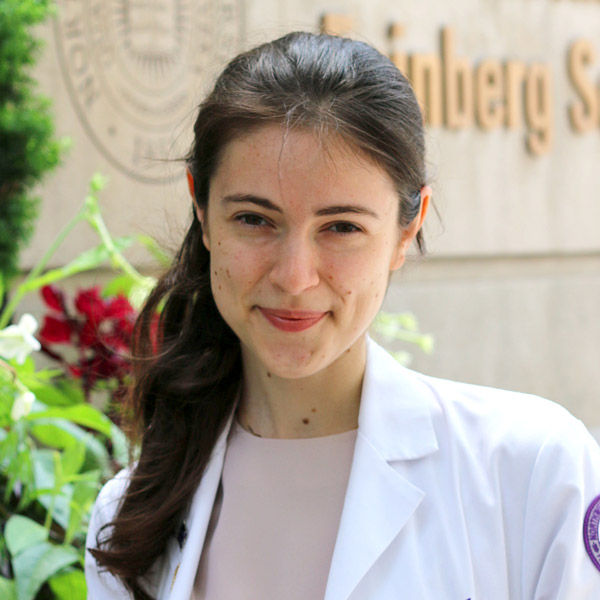 Maria Aristova, B.Sc.
M.D./Ph.D. Student
Northwestern University
Chicago, IL, USA
ISMRM Member since 2016
I was first introduced to MR when I was working as a research technician at the A.A. Martinos Center for Biomedical Imaging at Massachusetts General Hospital. I was working with Drs. David Salat and Diana Rosas on studies related to Huntington's disease and was struck by the extent to which we could not only visualize the anatomical, chemical, and functional changes resulting from the disease but also synthesize data from multiple types of imaging with other findings to enrich our understanding of its progression. After entering the Medical Scientist Training Program at Northwestern, I rotated in several research labs but ultimately gravitated towards continuing MR research in the lab of Dr. Michael Markl. With the co-mentorship of Dr. Susanne Schnell, I focused my Ph.D. project on adapting 4D Flow MRI to applications in neurovasculature, specifically arteriovenous malformations. This was an opportunity to really get involved in the full spectrum of MR, from sequence development to data analysis to clinical applications.
My favorite thing about MR is its versatility—the ability to visualize and quantify so many different physical phenomena. Correspondingly, I am always inspired by the barriers that have been overcome in MR through ingenuity in both hardware and software development. As an M.D.-Ph.D. student, I try to balance research and clinical learning. During my graduate school years, a day might have included scanning a research volunteer, meeting with clinical collaborators, spending a few hours on sequence programming, and heading across town to a primary care clinic. I recently returned to the clinical stage of medical school, so a typical day now not only tends to begin earlier in the morning, but is much more heavily weighted towards seeing patients as much as possible. Of course, it's always exciting to look at MR imaging and think about future research directions! One thing is fairly constant: I love biking to commute, so (when Chicago's weather allows) my day typically starts and ends with a ride on the Lakefront Trail.
I've been a member of ISMRM since 2016 (also the first year I submitted an abstract!).  My favorite thing about ISMRM is the sense of community! It is always an amazing experience to meet researchers from around the world and encounter a shared enthusiasm for moving technology and health forward.
Flow and Motion is my favorite ISMRM study group! We embrace the natural movement of living tissue, leading to quantitative measurements and unquestionably pretty pictures. There are so many exciting projects moving toward faster, more accurate or previously unimagined types of data. It is also a friendly and welcoming community stretching across the globe—a great microcosm for the collaborative and innovative spirit of ISMRM.
All the ISMRM committees do great work on behalf of the ISMRM! I do want to highlight the Committee on Women in ISMRM and the Equity, Diversity and Inclusion Task Force. Both groups are doing important work to make the field of MR research more welcoming and supportive for groups that have been underrepresented in the past, and to move ISMRM toward a more equitable future.
My interests outside of work include yoga, barre, long walks, crafts, and the cultivation of houseplants. This summer, I sprouted an irresponsible number of fast-growing avocado seeds; their takeover of my apartment is imminent.
Having just submitted my Ph.D. thesis, I have recently given some thought to how a long-term research project takes shape. My research focus is in optimizing 4D Flow MRI, which enables direct quantification of motion for imaging intracranial arteriovenous malformations, which are rare but potentially devastating connections between arteries and veins. From the clinical perspective, I was interested in how to communicate the movement of blood flow through the unusual anatomy when patients are so rare and so different from each other. It is clear that the flow patterns in AVM patients would be different from usual, but how could this be described in a way that could be interpreted and used to guide some aspect of treatment? This led me to look into ways of post-processing, storing, and communicating data. Meanwhile, an additional challenge of this application is that it pushes the limits of the 4D Flow method by requiring high resolution and large matrix sizes for accuracy. This prompted me to spend time on sequence development with the goal of reducing acquisition time. I feel this project was a great example of the mutual feedback between clinical necessity and engineering development. I'm looking forward to what's next in this field!