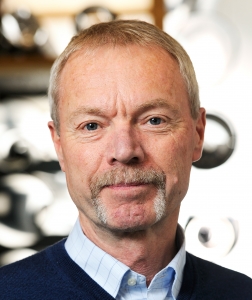 In Memoriam
Klaas Nicolay
1951-2017
With great sadness we inform you of Professor Klaas Nicolay's passing. Since 1999, he headed the Biomedical NMR group at the Department of Biomedical Engineering of the Eindhoven University of Technology. After a twelve-month illness, Klaas passed away peacefully in his sleep at his family home on Tuesday January 10, 2017.
Upon completion of his Chemistry undergraduate studies, Klaas obtained a PhD from the University of Groningen and continued his research at the Dutch Cancer Institute. In 1991 he became head of the Utrecht University's in vivo NMR laboratory. Subsequently, in 1999, he accepted the position of Full Professor in Biomedical NMR at the Department of Biomedical Engineering of the Eindhoven University of Technology; a position he held until his untimely death.
Klaas had a long and fruitful scientific career with many contributions to science, education, and mentoring. His approach and vision are best characterized as uniquely tolerant, with a focus on the development of new Magnetic Resonance Imaging and Spectroscopy techniques to better understand disease processes. He was very passionate in mentoring his students and he trained some of the currently leading scientists in the experimental MRI field. Klaas was internationally recognized and appreciated for his work and served our community as a member and chairman of various advisory boards. Klaas was a very modest person, but those close to him know how proud he was of his team's individual members and the appreciation they received for their work on many occasions.
For his research team and students, Klaas has been a teacher, coach and father figure. In the Biomedical NMR group he created an open and inclusive environment in which members were encouraged to thrive both scientifically and personally. Above all, he created a familial atmosphere in which everyone felt at home.
Klaas played a crucial role in the establishment of Eindhoven University of Technology's Department of Biomedical Engineering. For the Department's Board, he served as vice dean and he was a continuous source of invaluable support and advise.
Klaas was a dedicated researcher and a mentor to many. His legacy will continue to develop as his many mentees occupy key research positions in The Netherlands, Europe and The United States of America. We will dearly miss his endearing warmth and friendly smile, but we have all internalized his wisdom.
Our thoughts are with his wife Gielie, their beautiful daughters and grandchildren, as well as with the rest of his family and friends.
Present and former colleagues of the Biomedical NMR group, Eindhoven University of Technology