Quantitative MR Study Group
Mission
To promulgate documentary and measurement standards for quantitative magnetic resonance imaging in collaboration with national metrology institutes (NMIs), academic and clinical MR sites, and through collaboration with existing study groups.
Governing Committee
Chair: Kathryn Keenan, Ph.D.
Vice-Chair: Diego Hernando, Ph.D.
Secretary: Xavier G. Golay, Ph.D.
Trainee Representative: Annie Yuxin Zhang, M.Sc.
Past-Chair: Jeff L. Gunter, Ph.D.
Members-Only
Click here to access Members-Only content
Login required
IMPORTANT!
Your login for the Members page is:
Username: [Your 5-Digit Member ID Number]
Password: [Your Last Name, Case-Sensitive, No Spaces or Punctuation]
Study Group News
Check back soon for news & announcements.
Archive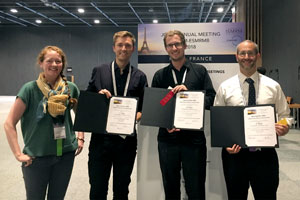 2018 ISMRM Quantitative MR Study Group trainee research awards:
First place: Michal Považan et al, #0160
Multi-vendor, multi-site comparison of 1H-MRS PRESS data acquired at 25 research sites
Second place: Malte Brammerloh et al, #0188
Iron-induced relaxation mechanisms in the human substantia nigra: towards quantifying iron load in dopaminergic neurons
Third place: Manuel Schneider et al, #0536 (represented by senior author Mustafa Bashir)
Repeatability and Reproducibility of a New Method for Quantifying Triglyceride Saturation Using Bipolar Multi-Echo MRI
Study Group List Server
The Quantitative MR Study Group has established an email list server in order to facilitate discussion among the study group members. This is a closed list, meaning only members of the Quantitative MR Study Group are able to use this service. If you wish to participate in this membership service, please contact the ISMRM Central Office at membership@ismrm.org.
All members are expected to follow the ISMRM Rules for Etiquette when posting to this listserv. Please read the rules before posting.