ISMRM & SMRT Virtual Conference & Exhibition
08-14 August 2020

Couldn't Attend?
Access to the virtual conference materials is available through the ISMRM E-Library!

Archived Meeting Links
Review Categories


Call for Abstracts – Closed
Stipend Opportunities – Closed
Junior Fellow Program – Closed
Junior Fellow Challenge – Closed
How to Submit Your HTML-Based Abstract
Call for Member-Initiated Symposia – Closed
Guidelines for Posters & Presenters
Exhibitor Prospectus


Earn Points to Win Big! Updated 10 August


ISMRM & SMRT Raffle!
Registration
Registration is Closed

SMRT Asia/Pacific Social Events


SMRT North America, UK & Europe Social Events
A Message from the ISMRM Program Chair & Vice-Chair
Posted: 25 June 2020
A Message from the SMRT Program Chair & Vice-Chair
Posted: 29 June 2020
The ISMRM & SMRT Annual Meeting Goes Virtual!
A letter from ISMRM & SMRT Presidents Larry Wald & Shawna Farquharson
Before the Conference
(from 24 July to 07 August)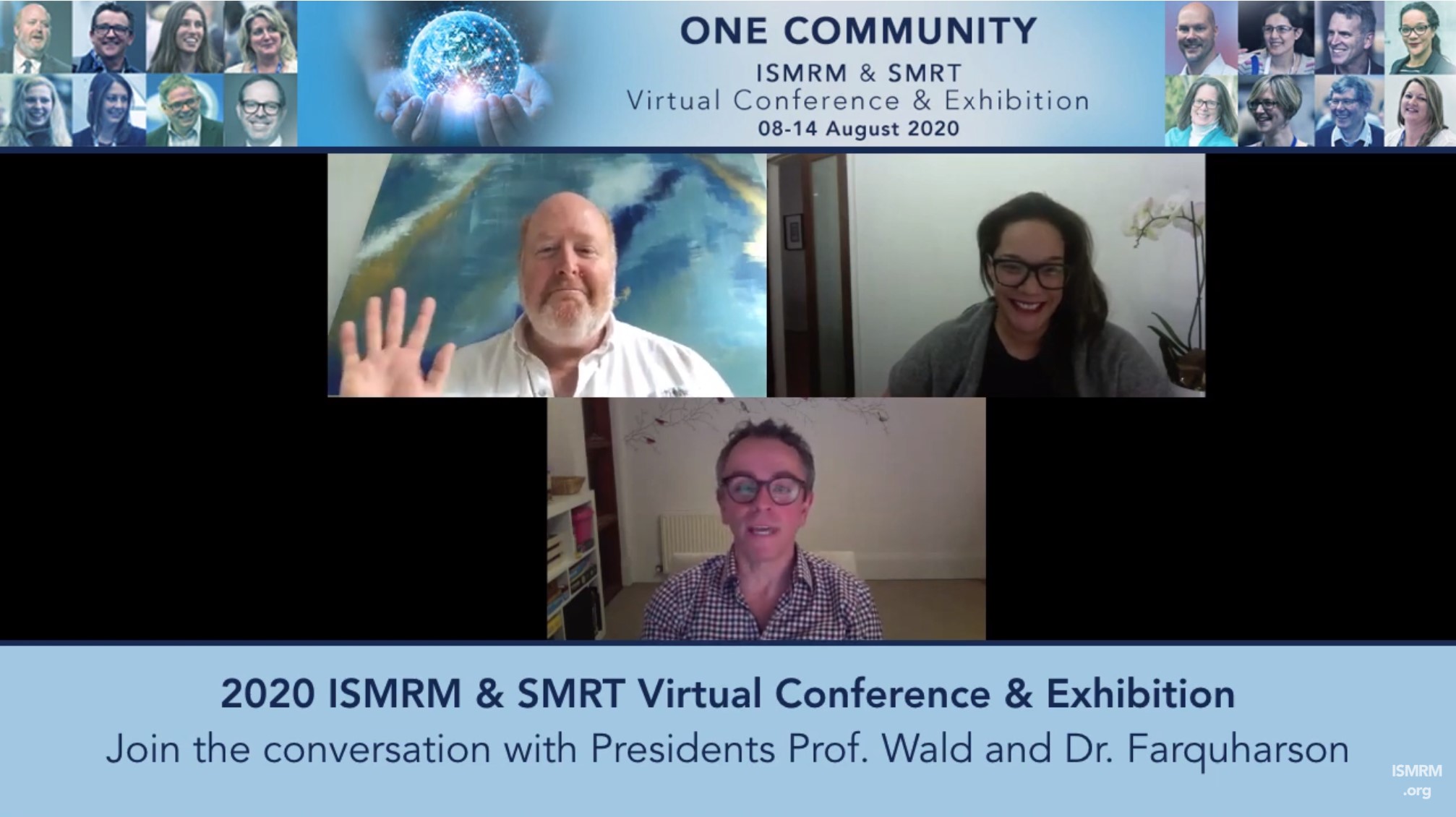 A conversation with Presidents Larry Wald & Shawna Farquharson with Chris Kokkinos
Posted 05 August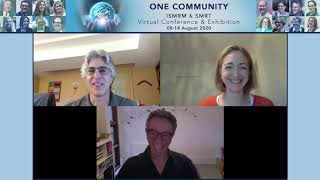 Listen to Program Chairs Doug Noll & Claire Mulcahy discuss the virtual conference format with Chris Kokkinos
Posted 28 July
Archive of Guidelines & FAQs
Virtual Conference & Exhibition FAQ
Updated 06 August 2020
Important Dates & Deadlines:
10 June 2020
Abstract Withdrawal Deadline
See deadlines
on Guidelines page
Presentation Upload Deadline
23 July 2020
Registration Cancellation Deadline
24 July 2020
Publication Date; Proceedings available on website
08-14 Aug. 2020
ISMRM & SMRT Virtual Conference & Exhibition
2019 Deadlines Archive
09 Sept. 2019
ISMRM & SMRT Call for Abstracts; Submission Sites Open
11 Sept. 2019
Young Investigator Awards Submission Deadline
02 Oct. 2019
2020 Membership Available for New Applicants and Renewals

06 Nov. 2019
at 23:59 EST

Deadline for all of the following:

ISMRM & SMRT Abstract Submissions
Stipend Awards Application
Junior Fellows Application
2020 Membership Application (if required for stipends, awards or other meeting-related reasons)
2020 Dues Renewal for Stipend Applicants

18 Nov. 2019
Junior Fellows Challenge Submission Deadline
2020 Virtual Conference FAQs
ISMRM & SMRT Virtual Conference & Exhibition FAQ
Updated 06 August 2020
What are the dates for the ISMRM & SMRT Virtual Conference & Exhibition?
The ISMRM & SMRT Virtual Conference & Exhibition will be held 08-14 August 2020.
What are the costs for the virtual event?
Registrant
Type

ISMRM
Full

ISMRM Trainee or Associate or Emeritus
—
SMRT Member or Technologist or Radiographer

Notes

Member

US$250.00*

US$150.00*

* To qualify for an ISMRM or SMRT Member rate, your 2020 membership dues must be paid.

Non-Member

US$530.00

US$330.00**

** Non-member trainees & technologists or radiographers must provide verification of their current status to receive the reduced fee.
When does registration end?
Registration will be open throughout the entire meeting.
What time zone will be used for live virtual sessions and exhibit hall?
Coordinated Universal Time (UTC) is the primary listed time zone. The Program-at-a-Glance also shows times in your local time zones. However, session pages only show UTC times.
Do I need to download or install any software to be able to attend this event?
No. You do not need to download or install any software to participate in our conference. You only need to have access to the Internet.
How do I Access the ISMRM & SMRT Virtual Conference & Exhibition?
All conference content can be accessed from this page (the Virtual Conference home page). Instructions can be accessed by clicking the "How to ISMRM" buttons.
Where can I find instructions on Live Q&A's?
To find instructions on Live Q&A's please click the "FAQS FOR LIVE Q&As" button on the meeting home page
Will attendees be able to ask questions or participate in the session?
All sessions will have an interactive component via chat text or video, Q&A with the speaker, or ability to contact the speaker or other attendees.
What if I will not be available during certain sessions?
All sessions will be available free of charge for 7 days after the event.
Will sessions be recorded and archived for later review?
Virtual sessions will be recorded and archived and available for 7 days after the meeting. If your connection does not allow you to participate live, we encourage you to access recorded sessions once they are made available.
What happens if there are technical issues during a session?
Technology is great, but it doesn't always perform how we need when we need it. With the added strain on networks as more people are at home and online, sessions may encounter technical glitches.
If you are an attendee and have technical issues, contact the help desk in the lobby.
Will it be possible to get CME at the virtual event?
To assist the schedules of our attendees, instead of offering scheduled accredited live events, we have taken recordings from the virtual meeting and created enduring materials. Full information is available on our credit designation page: https://www.ismrm.org/20m/credit/.
Will there be an Exhibit Hall?
Yes, there will be a virtual exhibit hall. The exhibition hall will be open 24 hours day during the meeting. There are dedicated unopposed times that exhibitors will be available to answer your questions and chat with you.
Live Exhibition Dates & Hours
SMRT Exhibition
Saturday 8 August 2020, 22:00-23:00 UTC
Sunday 9 August 2020, 14:00-15:45 UTC
ISMRM Exhibition
Monday through Thursday 10 – 13 August 2020
10:00 – 12:00 UTC and 16:00 – 18:00 UTC
Can I host a virtual ancillary meeting?
While we will be offering sessions and corporate symposia, we will not be able to offer external ancillary meetings on the virtual platform. Attendees are encouraged to group chat or share their own video chat platform with others to conduct meetings during the ISMRM & SMRT Virtual Conference & Exhibition.
The ISMRM & SMRT Annual Meeting Goes Virtual!
The Annual Meeting is Going Virtual!
Posted: 14 May 2020
Dear Colleagues,
Due to continuing safety concerns and public health restrictions with respect to large gatherings during the COVID-19 pandemic, the ISMRM Board of Trustees, with the support of the SMRT, met and voted to transform this year's annual meetings into a virtual conference (v-conference), including a virtual exhibition (v-exhibition), to be held over the planned dates of 8-14 August 2020.
Expect the same exceptional standard in education and presentations that you have become accustomed to from ISMRM and SMRT. We are taking into consideration everything that you love about both the ISMRM and SMRT annual meetings and are transforming them for a virtual interaction. We appreciate your patience and understanding as we begin this process and promise we will have additional information in our online FAQs in the coming days. Our primary focus today is to notify you of this decision so that you can plan accordingly.
We will be in contact with speakers, moderators and poster presenters within the next week to not only confirm your participation but ensure your hard work and research is optimally shared with our community.
We will keep you informed every step of the way and look forward to seeing you all virtually in August.
Sincerely,
Larry Wald
2019-2020 ISMRM President
Shawna Farquharson
2019-2020 SMRT President